Meet the 2022 recipients of the Engineers Canada - Leadership Scholarship
Antoine Poissant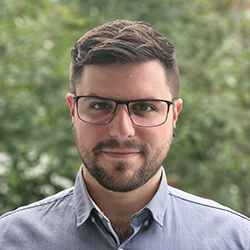 Université de Sherbrooke
Bachelor of Biotechnology Engineering  
"Challenges are just a necessary step in any endeavour. I learned what I could from them and came out better from it."
Antoine Poissant wants to help create a better food system and is working with organizations to ensure healthy food for the future. He intends to further his education in graduate studies to help develop this emerging field through engineering. On campus, Poissant has undertaken a project with a student innovation group to focus on cellular agriculture that will be launching throughout his campus. Though it is starting small, he has high hopes that it will grow into an active community working to find new ways to feed the future. "If I can help just a little to produce good food in a sustainable way, I will feel accomplished", he says. In his spare time, Poissant is also finding ways he can support his peers. This fall, through the student help center, with the support of the biotechnological engineering department, Poissant looks forward to helping first year students integrate to their new engineering program being part of the team as student coordinator and mentor.  
Abduljawad (A.J) Kourabi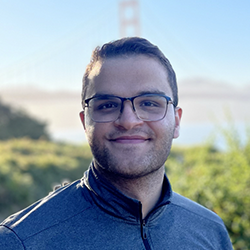 McMaster University
Bachelor of Engineering in Engineering Physics, minor in Business 
"Engineering empowers you with an incredibly sought after technical toolkit that is practical and transferable to other domains."
A.J Kourabi strives to become an engineer that bridges the gap between policy and technology. Kourabi has already worked towards this goal through publishing a memo on an advanced research agency within Canada, and an article about the necessity of public interest technologists. Kourabi believes that there are many ways of engaging with science and engineering, apart from the traditional ways and encourages others to explore those pursuits. Kourabi is also a leader that believes in empowerment, and through the McMaster Engineering Society recently created a microgrants program that provides funding for students' side projects and online certificates. The funding came after recognizing the many impactful projects and ideas students want to build, but faced monetary difficulties. Utilizing his education, Kourabi endeavours to explore building alternative institutions of science and has recently interned at Convergent Research.   
Amanda Quinn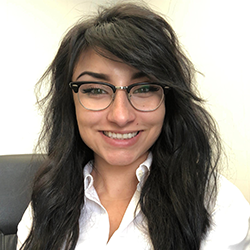 University of Calgary
Bachelor of Science in Energy Engineering 
"Greatness can come from engineers. The knowledge we learn is very impactful – So great that it can change the world." 
Amanda Quinn is a resilient leader in her university community and aims to continue these ambitions post-grad. With many aspirations of her own, Quinn has supported fellow engineering students in fulfilling their goals and shared knowledge with youth about the wonders of engineering. Of her many notable achievements, Quinn is most proud of her role as President of the SAIT Mechanical Society where she hosted multiple industry events for students, helping them connect with professionals and secure a position within a company right after graduation. Above all, Quinn's vision is to save the planet, one technology at a time. Quinn aspires to create technology that harnesses energy in an efficient way, making energy cleaner and more cost-effective for people all around the world. This will inevitably lead to equalling the energy distribution throughout the world. Quinn wants to leave a positive and lasting impact on every living thing in the world. 
Chigozie Enyinnaya-Okidi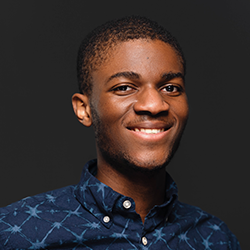 University of Saskatchewan
Bachelor of Mechanical Engineering
"Your level of ability to find solutions to challenges around you is largely dependent on your continuous and passionate pursuance of and desire for knowledge."
Coming from a family of engineers who are his first-hand resource for all things academics, career, and personal growth, it comes as no surprise that Chigozie Enyinnaya-Okidi was inspired to do the same for others. Enyinnaya-Okidi has played a vital role in helping youth in his local community as well as students in his engineering community through mentorship and academic support. As a volunteer for CityKidz Regina, a Christian organization set up to encourage children to be purpose-driven and confident in their abilities, Enyinnaya-Okidi engages kids through bi-weekly fun games, education, free-lunch programs, and more. Also lead of the academic committee at his local youth church in Saskatoon, Enyinnaya-Okidi connects with the engineering students to help them navigate their academic and personal challenges. Enyinnaya-Okidi is attuned with the negative outcomes of fossil fuel in the energy sector, a sector in which he envisions to pursue his engineering career and contribute to. In the future, Enyinnaya-Okidi wants to provide sustainable solutions to enterprises, both public and private, in the energy sector in Canada and the world. Enyinnaya-Okidi's also aims to provide affordable and clean energy and promote responsible consumption and production, promoting policies that aim to achieve this.
Madison Squires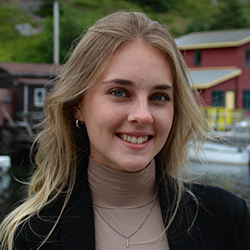 Memorial University and Newfoundland
Bachelor of Mechanical Engineering 
"Engineering makes it possible to put your passion towards a rewarding career while doing something that sparks your creativity."
True leadership is about helping others – Something Madison Squires has been doing from high school to university. Currently President of Memorial University of Newfoundland Engineering Society 'A', Squires creates safe, welcoming, and engaging events for students to make memories with their fellow classmates while giving them resources they need to develop as individuals and future engineers. This role allows Squires to promote undergraduate education, opportunities, organize various fundraisers, and represent Memorial University of Newfoundland in many Atlantic and National conferences. Most recently, Squires stepped forward as Co-Chair for the Canadian Engineering Leadership Conference to be held in 2024, which allows her to use her leadership skills at a national level.  As a leader, Squires wants to teach people how to become effective leaders in their own lives and show as many people as possible that leadership is something for everyone no matter what role you play. As a future engineer, Squires aspires to improve the lives of others through the use of technology and design.  
Shanleigh McKeown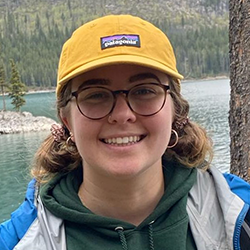 University of Saskatchewan
Bachelor of Environmental Engineering 
"People matter the most. No matter what kind of engineer you are or are wanting to be, your first priority should be the communities you serve." 
When Shanleigh McKeown graduates, she wants to build an engineering career founded on compassion. McKeown has represented students on a regional and national stage, as the President of the Western Engineering Student Societies Team (WESST), as well as President and west Ambassador for the Canadian Federation of Engineering Students (CFES), focussing her efforts on ensuring everyone felt, safe, valued, and welcomed – reminding everyone that there is a place for them there. As a leader in her community, the most important values to McKeown are kindness & love. "I think oftentimes we look at being an effective leader simply as being an efficient leader; checking boxes off as we complete tasks," she says. "There is something very sacred and beautiful about choosing to extend kindness & love in all circumstances – a leader gets to make that choice every day, and I think it's the most important one to make." Upon graduation, McKeown's goal is to work in environmental safety focussing on mining, to help protect vital resources in a way that benefits both the planet and our communities. Most importantly, McKeown hopes to extend her belief of kindness to the communities she works in. 
Stephanie Quon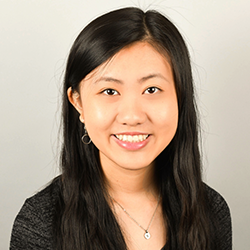 University of British Columbia
Bachelor of science in Electrical Engineering 
"There are lots of opportunities available, and it can be hard to figure out which ones to pursue, but luckily, there isn't really a right or wrong answer."
Stephanie Quon takes pride in her involvement with the student engineering community at the University of British Columbia. Throughout Quon's university journey, she has been highly engaged in various student clubs, including UBC women in engineering, the mental health and wellness committee, and the Electrical and the Computer engineering Student Society. Quon is also highly passionate about increasing diversity in engineering. In 2021, Quon received an NSERC Student Ambassadors grant to lead, develop, and implement an outreach event for underrepresented populations in STEM. Through this program, Quon developed and delivered a 3-part workshop series on electrical engineering for female-identifying high school students, helping them learn about engineering careers and electrical engineering skills. One of Quon's most memorable projects thus far has been developing a sensory room at UBC where she took a lead on initiating, funding, designing, and constructing the space at her university with the input from community members on designing the space. After graduation, Quon hopes to work in the electrical engineering sector in a role that centres sustainability and community impact.
Vincent d'Entremont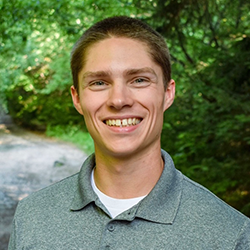 University of New Brunswick
Bachelor of Science in Mechanical Engineering 
"Hard work is essential, and determination is critical, but, with enough effort, anyone can reach their goals."
For Vincent d'Entremont, a leader is not one that simply gives orders or is the best at what they do, but a leader is one that always aims to do what's best for their team. As Vice President of Finance of the 2022 Canadian Engineering Competition Organizing Committee, d'Entremont showcases this belief serving a team of 33 conscientious engineering students from his university. Also, as co-president of the Fredericton Area Water Brigade, d'Entremont leads discussions about ethical volunteering, and organizes fundraisers to subsidize the costs of their projects. With this same sprit, d'Entremont wants to create value for people at the intersection of biology and technology through advancing the field of prostheses. He wants to develop interventions for paralysis so people can regain agency over their bodies. Most importantly, d'Entremont wants these new technologies to be accessible and cost-effective as these are two critical barriers for patients who need these devices. Post-graduation, d'Entremont has a goal to complete graduate studies in the prosthesis field to refine his skills, then work in that industry to advance the technology currently being used commercially.