Meet the 2022 recipients of the Engineers Canada - TD Insurance Meloche Monnex Scholarship
Cody Kupferschmidt, M.Sc., P.Eng.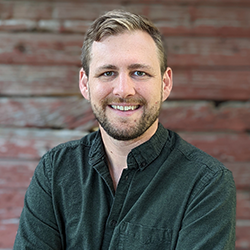 University of Guelph
PhD in Water Resources Engineering
"An unusual set of experiences can be combined to help someone understand a problem in a way that others can't."
Cody Kupferschmidt's engineering background gave him first-hand experience of the risks that river erosion can pose to critical infrastructure. Through these experiences, Kupferschmidt became aware of the limited techniques and reporting methods that exist for evaluating these risks. This inspired Kupferschmidt's research on developing a better understanding of the factors that influence river channel migration and riverbank erosion. Combining both machine learning and engineering techniques, Kupferschmidt hopes to develop models that can more accurately forecast river channel migration. These models could be used to help identify and protect at-risk homes or infrastructure and identify environmentally sensitive areas where development should be limited. Contributing to these aspirations, Kupferschmidt has developed technologies for his previous employers that are now used operationally on a daily basis. Pursuing a PhD, Kupferschmidt hopes to gain a better understanding of how to apply machine learning techniques to classical engineering problems, and develop practical solutions that can benefit the public.
Niema Afroze, M.A.Sc, P.Eng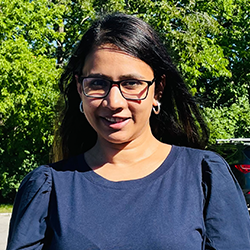 University of Western Ontario
PhD in Civil Engineering and Environmental Engineering
"Making the right decisions, staying focussed, and being determined is the recipe for success."
Niema Afroze is conducting research to preserve energy consumption. Afroze recognized a common challenge of conventional biological nitrification process for removing nitrogen is the consumption of energy. Her research uses a brand-new process; The application of heat shock to nitrogen, removing bacteria for achieving partial nitrification to save energy, a method that will be an emerging green technology. Since the goal of Afroze's research is to save energy, the anticipated outcomes of this research project include the development of a patentable novel process for mainstream nitrogen removal, that could be readily integrated in existing treatment plants to reduce energy consumption, carbon footprint, and provide superior effluent quality. The technological development of this process would offer an economical and environment friendly wastewater treatment solution to Canada as well as to the whole world.
Parham Joulani, M.Sc., P.Eng.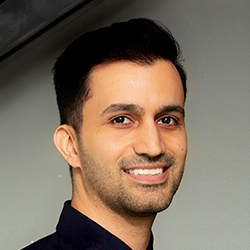 University of British Columbia
PhD in Civil Engineering
"Embrace every opportunity and don't be afraid to fail. Learn from your failures and keep going. Persistence is what creates eminence."
As a bridge engineer, Parham Joulani found that traditional bridge inspections tend to be costly, difficult, and risky not only for the inspectors but also for the public. Traditional bridge inspections are also prone to human errors due to the nature of the work and it is critical for bridge owners to properly manage their assets. Fascinated by challenges inherent in solving engineering problems, Joulani wants to contribute to meeting these challenges using innovative solutions. Through his PhD, Joulani is focussing his research on the use of Artificial Intelligence (AI) as a novel engineering solution that can ultimately assist with smart conditional assessment of existing bridges, predicting their future deterioration, and prioritizing maintenance and retrofitting works. Joulani found that the overlap between engineering problems and advancements in Artificial Intelligence (AI) is ripe for further exploration. "The inevitable future integration of these fields will require engineers with thorough expertise in both engineering and AI," he says. This is what he hopes to achieve by furthering his studies.