Encouraging and developing women's interests in engineering begins with programming that engages girls in science, technology, engineering, and math (STEM) activities at an early age. Educators, community organizations, parents, and industry work to deliver outreach programming that reverse and challenge existing stereotypes associated with the engineering profession and that often hold women back from entering into post-secondary engineering programs.
Engineers Canada's creation of an engineering crest for Girl Guides and its support for the Engendering Success in STEM research consortium are just two examples of its efforts to encourage young girls to explore engineering.
Girl Guides crest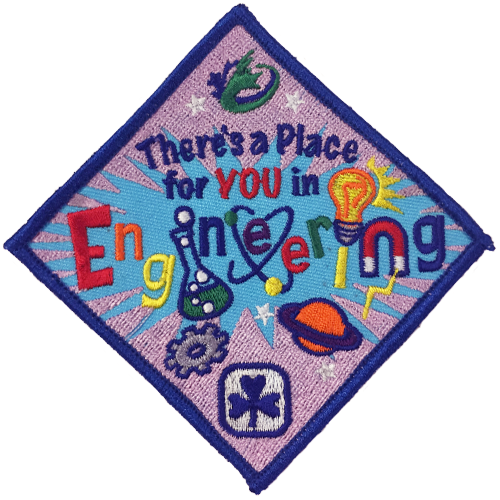 The Engineering crest was created by Engineers Canada, in partnership with Girl Guides Canada, to be awarded to guides who complete engineering-related activities under the supervision of a member of the engineering community such as a professional engineer, engineer-in-training, engineering graduate, or engineering student. These activities—things like exploring how vehicles work, introducing the concept of simple machines, or experimenting with how lipstick is made—are designed to illustrate the many ways that engineering shapes everyday life. By participating in the program, girls also gain a better understanding of how the world around them works.
Either an engineering professional or the Girl Guide leader can initiate the process. While any member of the engineering community can lead the activities, Engineers Canada encourages the participation of women in particular because of the lasting impact that female role models can have on girls choosing to pursue engineering careers.
Anyone interested in using the crest can confirm conditions of use and order required quantities through the online order process.
Engendering Success in STEM
Engendering Success in STEM is a research consortium of social scientists, STEM outreach experts, and partners in industry devoted to testing the long-term efficacy of interventions that harness the power of positive social interactions to mitigate subtle gender bias. Its ultimate goal is to understand and combat the various ways that cultural biases stand in the way of creating inclusive cultures for women in STEM.  Engineers Canada's financial and in-kind contributions towards this consortium which, over seven years, will examine and test interventions that target the distinct obstacles unique to each step along the way from early education to industry, will contribute greatly to the future efforts of the engineering profession.