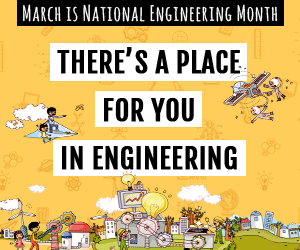 March 1, 2018, marks the start of National Engineering Month, and as in previous years, Engineers Canada encourages young Canadians to take advantage of the opportunities the month provides to discover the joys of engineering.
"National Engineering Month is an opportunity to celebrate the vital role engineering plays in Canadian society," said Gerard McDonald, MBA, P.Eng, CEO of Engineers Canada. "It's also an important chance to spark the interest of Canadian youth in engineering, demonstrating to them that with the wide range of engineering disciplines, there's a place for everyone in our great profession."
To help youth discover the world of engineering and how their skills and interests can fit in, Engineers Canada has launched ExploreEngineering.ca, a year-round resource hub that offers, among other things, event calendars for the more than 500 National Engineering Month events being held across the country this month.
Explore Engineering, with its descriptions of the various engineering disciplines, its profiles of everyday engineers, its interactive Chart Your Course feature, and its highlights of Engineers Canada's outreach programs, will serve as a great resource to explore the world of engineering throughout the year.
"We want people to be as excited as we are about engineering and to use Explore Engineering to share that excitement during National Engineering Month and beyond, especially in their conversations with the youth in their lives, " said Jeanette M. Southwood, FCAE, FEC, LL.D. (h.c.), P.Eng., IntPE, Engineers Canada's Vice-President of Strategy and Partnerships.
With Explore Engineering, and National Engineering Month, Engineers Canada hopes that youth will discover that engineering can be a place for them.
How to participate in National Engineering Month
Organized by the provincial and territorial engineering regulators, and with the support of countless volunteers, over 500 events will take place throughout March from coast to coast to coast for young Canadians to learn about the exciting, fun, and rewarding world of engineering. These include, for example, design competitions, robotics demonstrations, and science and engineering fairs that will teach young Canadians how to use math, science, technology, and creativity to generate things that were once only in their imaginations.
ExploreEngineering.ca is also a great place for students and youth to explore the different types of engineering. The interactive "Chart Your Course" feature allows visitors to discover which types of engineering may appeal to their interests most. The site also profiles everyday engineers, real engineers from different disciplines sharing the story of their careers. Visitors can also use the site to find National Engineering Month events happening in their area, and find resources to help promote the month.
Youth, students, parents, teachers, engineers and any interested individuals can also join the celebrations online by following the provincial engineering regulators and Engineers Canada on social media (Twitter, Facebook or LinkedIn) and using the hashtags #NEM2018 and #NEGM2018.