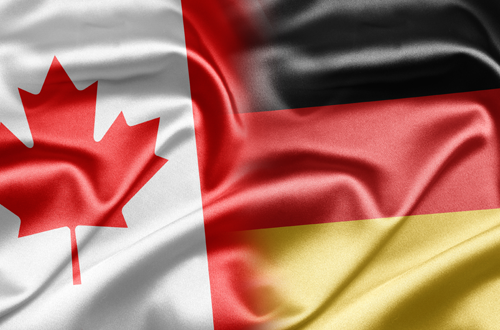 Engineers Canada and the German International Development Agency (GIZ) have partnered on a 32-month project that will see Engineers Canada's Public Infrastructure Engineering Vulnerability Committee (PIEVC) Protocol used to conduct climate vulnerability assessments on infrastructure in three GIZ partner countries—Brazil, Costa Rica, and Vietnam—as well as in the Nile Basin Initiative, a consortium of 11 East African countries.
The project kicked off with a meeting of international partners at the GIZ headquarters in Bonn, Germany, from September 11 to 15, 2017. David Lapp, FEC, P.Eng., IRP, Practice Lead, Globalization and Sustainable Development, and Darrel Danyluk, FEC, P.Eng, represented Engineers Canada and presented the PIEVC Protocol and the role it will play in enhancing infrastructure decision-making.
Throughout the project, the PIEVC assessments, conducted as case studies, will engage local engineers and other disciplines working as a team. These case studies will build capacity through a "learn-by-doing approach" that will integrate the Protocol into climate services and infrastructure planning in those countries. Engineers Canada will provide PIEVC and climate experts to support the local project teams and deliver several workshops in each location, as well as ongoing advice, support, and review as the local teams work through their respective case studies. 
The intended outcome of the use of the PIEVC Protocol in this project is to enhance the capacity of local engineers to carry on this work as part of enhanced in-country engineering and climate services to support infrastructure investment decision-making.
For more information contact David Lapp, FEC, P.Eng., IRP, Practice Lead, Globalization and Sustainable Development  at david.lapp@engineerscanada.ca