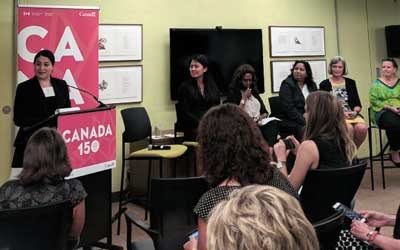 Engineers Canada President-Elect Annette Bergeron, MBA, FEC, P.Eng., is one of three leaders who will guide an upcoming project from the Ontario Society of Professional Engineers (OSPE) that will address barriers that contribute to the under-representation of women in STEM.
The 36-month project entitled Canada 150- STEM Challenge: Overcoming Systemic Barriers for Women Choosing STEM Careers has received $385,000 from Status of Women Canada, as announced last week by the Honourable Maryam Monsef, Minister of Status of Women. As a partner for this project, Engineers Canada was happy to provide a letter of support for OSPE's application for government funding.
"We are thrilled to receive support from Status of Women Canada to help address this incredibly important issue in the engineering profession," said Bergeron. "OSPE is the Ontario champion of Engineers Canada's 30 by 30 goal of raising the percentage of newly licensed engineers who are women to 30 per cent by the year 2030. Removing systemic barriers through this project will help us get there."
Working with the Ontario Association of Certifying Engineering Technicians and Technologists (OACETT) and other partners, the project will see OSPE engage students, educational institutions, employers, governments, STEM professionals, parents, and stakeholders to:
collect and analyze grassroots perspectives,
develop and pilot strategies to remove systemic barriers using online tools designed to support women and girls, and
create and promote workplace and government policy recommendations.
Bergeron will be joined by University of Guelph professor and 2002 winner of the Engineers Canada Award for the Support of Women in the Engineering Profession Valerie Davidson, P.Eng., and by Alectra Utilities Senior Vice-President Kathy Lerette, CET, as leaders of the project.
Bergeron, Davidson, and Lerette will participate in pan-Canadian meetings with other organizations who received funding from Status of Women for their own projects that will help advance gender equality across Canada. These initiatives are part of an investment of over $18 million by the federal government to support grassroots organizations and engage 150 women leaders across country. They will work together as part of a network being convened by the Canadian Women's Foundation to support feminist action for gender equality at the national level.
Follow OSPE's Society Notes blog for project updates.