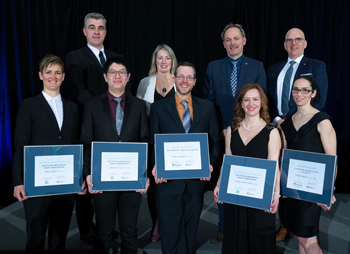 At a ceremony on February 28, 2019, Engineers Canada honoured the six recipients of its 2018 scholarship program. The recipients were chosen from a large number of submissions from across Canada. This year they represented studies in geography, planning, civil engineering, environmental engineering, chemical engineering, and mechanical engineering. The six annual scholarships are made possible through the generous support of Manulife and TD Insurance Meloche Monnex. 
"This year's scholarship recipients demonstrate how professional engineers improve the lives of Canadians in a diversity of ways," said Annette Bergeron, MBA, FCAE, FEC, P.Eng., president of Engineers Canada. "We are honoured to support them as they build on their existing engineering expertise through dedicated research, resource development, and skills advancement in order to solve the problems facing our society and the world." 
"We are pleased to be supporting Canadian engineering professionals and the contributions they make to society through their research and work," said Wallace Thompson, VP, Head of Distribution Affinity Markets – Individual Insurance Canadian Division, Manulife. "We are committed to meeting the needs of the membership by providing industry leading insurance products for over seven decades and continuing our long-standing relationship with the Engineers Canada scholarship program."  
"We are proud to support the future of engineering and of our participation in the Engineers Canada scholarship program for over 60 years," said Anna Kavanagh, Vice President, Affinity Market Group, TD Insurance Meloche Monnex. "Our commitment to fostering long-term relationships with our business partners is what sets us apart as one of the leading providers of group home and auto insurance programs." 
This year's recipients exemplify the valuable contribution that engineers make to society by innovating and helping advance our knowledge surrounding water treatment methods, refrigeration, wetland drainage, transportation paradigms, and women in engineering. 
The six 2018 scholarship recipients are working on a range of projects: 
Engineers Canada–Manulife Scholarships ($12,500) 
Sabrina Diemert, M.A.Sc. P.Eng. (Engineers and Geoscientists BC) aims to improve our understanding of the role that microbial communities play in the treatment of contaminants in water; this could be used to encourage the growth of specific microbial species to improve water treatment technologies, benefitting communities in both industrialized and developing regions. 
Melody Johnson, M.A.Sc., P.Eng. (PEO) is studying whether the pre-treatment of wine wastewater with advanced oxidation processes may be used to improve their co-treatment in municipal treatment plants. Her research could benefit Canadians by reducing the mass of recalcitrant and toxic compounds being discharged into waterways. 
Junior Lagrandeur, M.Sc.A., ing. (OIQ) is working to reduce companies' consumption of energy and greenhouse gas emissions through his research on vortex tubes—simple, low-cost devices that make it possible to generate a flow of hot air and flow of cold air from a single source of compressed air without any mobile part or synthetic refrigerant that is harmful to the environment.
Engineers Canada-TD Insurance Scholarships ($7,500) 
Holly Annand, M.Sc., P.Eng. (APEGS) is researching the influence of both climate change and wetland drainage on the hydrological responses of prairie basins. From this, she aims to develop tools that will ultimately help maintain agricultural productivity in different parts of the Prairies in the longer term. 
Michael Ge, M.Sc., P.Eng. (APEGA) is studying the linkage between land use and transportation, with the goal of conceiving new ways to redesign transportation systems for people of all ages and abilities, reducing car dependency and better utilizing space for other modes of transport. 
Jocelyn Peltier-Huntley, P.Eng. (APEGS) has conducted a mixed-method study, combining qualitative and quantitative data to address the persistent underrepresentation of women in the Canadian mining industry. From this, she aims to develop a practical guide for emerging influencers to support the required cultural shift in their organizations, the engineering profession, and the Canadian mining industry. 
Visit https://engineerscanada.ca/awards-and-honours/scholarship-program for more information on Engineers Canada's scholarship program.  
For more information, contact: 
Brent Gibson 
Manager, Communications 
Engineers Canada 
613.232.2474 x234 
brent.gibson@engineerscanada.ca