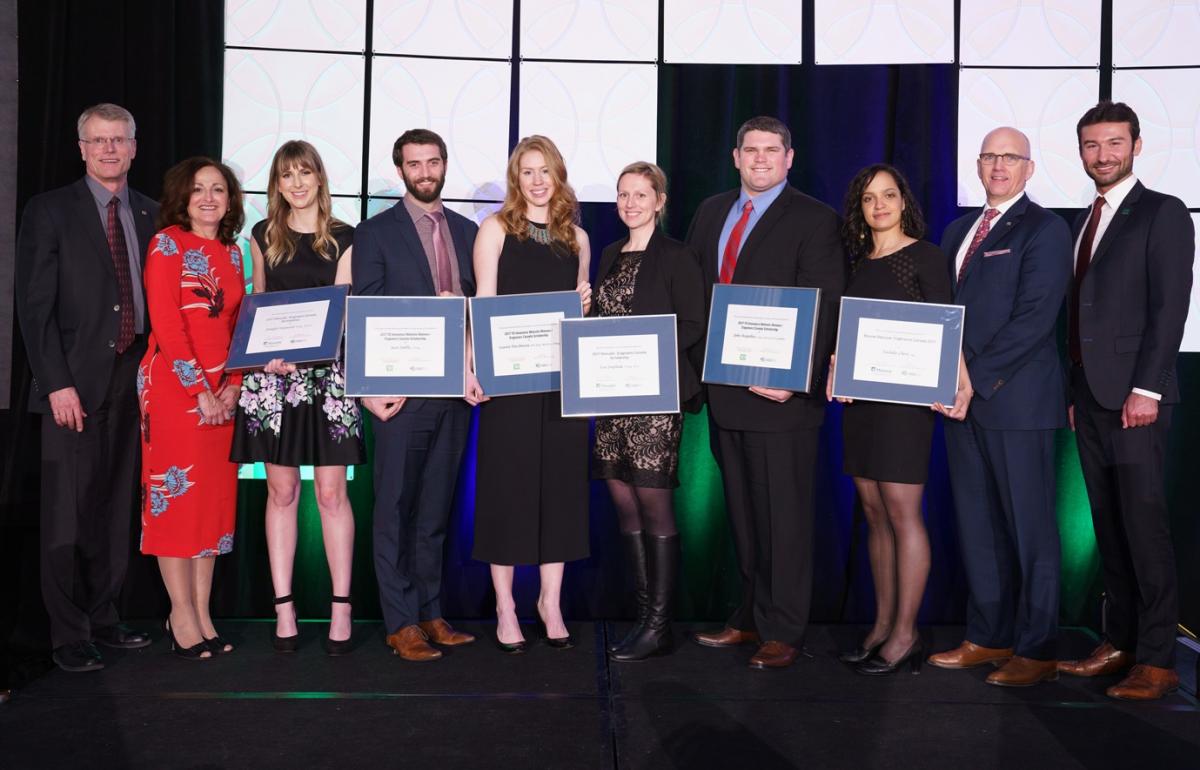 At a ceremony on February 27, 2018, Engineers Canada honoured the six recipients of its 2017 scholarship program. The recipients were chosen from a large number of submissions from across Canada. This year they represented studies in civil engineering, mineral engineering, permafrost geohazards, northern studies, and earth science. The six annual scholarships are made possible through the generous support of Manulife and TD Insurance.
"This year's scholarship recipients demonstrate how engineers improve the lives of Canadians in a diversity of ways," said Russ Kinghorn, MBA, FEC, P.Eng., IntPE, president of Engineers Canada. "We are proud to support them as they build on their existing engineering expertise through dedicated research, policy development, and skills advancement in order to solve the problems facing our society and the world."
"We are pleased to be supporting Canadian engineering professionals and the contributions they make to society through their research and work," said Wallace Thompson, Vice President Sales & Marketing, Consumer Markets, Manulife. "We are committed to meeting the needs of the membership by providing industry leading insurance products for over seven decades and continuing our long-standing relationship with the Engineers Canada scholarship program."
"We are proud to support the future of engineering and of our participation in the Engineers Canada scholarship program for over 60 years," said Anna Kavanagh, Vice President, Affinity Market Group, TD Insurance. "Our commitment to fostering long-term relationships with our business partners is what sets us apart as one of the leading providers of group home and auto insurance programs."
This year's recipients exemplify the valuable contribution that engineers make to society by innovating and helping advance our knowledge of Indigenous governance and entrepreneurship, seismic erosion, energy policy, mining pollution, water treatment, and permafrost geohazards. 
The six 2017 scholarship recipients are working on a range of projects:
Engineers Canada-TD Insurance Scholarships ($7,500):
John Desjarlais, P.Eng., MBA, MMP (APEGS) is researching issues and opportunities facing the circumpolar world, aiming to better understand how people and organizations such as governments, corporations, academia, and NGOs can influence positive outcomes in remote northern regions.
Lauren Hutchinson, P.Eng. (Engineers and Geoscientists British Columbia) is researching how slopes behave in seismically active areas of the world by studying the effects of seismic shaking on rock slopes in Central Nepal, where some of the highest rates of co-seismic and post-seismic landsliding were experienced following major earthquakes in 2015.
Sean Smillie, P.Eng. (APEGA) studies energy and climate problems using systems and interdisciplinary methods, aiming to generate a better understanding of the interplay among economics, human behaviour, and diverse societal values—along with technical engineering—in our energy system.
Engineers Canada–Manulife Scholarships ($12,500):
Nathalie Chevé, ing. (OIQ) is researching the potential for use of bentonite geocomposite (BGC) as a material to limit the production of acid mine draining, a major environmental problem related to mining activity.
Jennifer Hayward, MASC., P.Eng. (Engineers and Geoscientists New Brunswick) is studying antibiotic resistant bacteria in underground environments downstream of clinical and agricultural settings, in the effort to mitigate the threat it poses to global human health.  
Eva Stephani, Eng. (OIQ) aims to understand the complex interactions of climate, terrain, and subsurface conditions during the self-stabilization of slope instabilities in permafrost regions, with a mind to better protecting infrastructure at risk.
Visit www.engineerscanada.ca/scholarship-program for more information on Engineers Canada's national Scholarship Program. 
For more information, contact:
Brent Gibson
Practice Lead, Communications
Engineers Canada
613.232.2474
brent.gibson@engineerscanada.ca