Jon Barrett, a co-organizer for the Atlantic regional competition for the 2019-2020 Future City competition, recently shared some of his thoughts on the important role these events play in introducing students to engineering concepts and careers.  
Could you provide a brief description of Future City is and what was involved with the Atlantic region competition?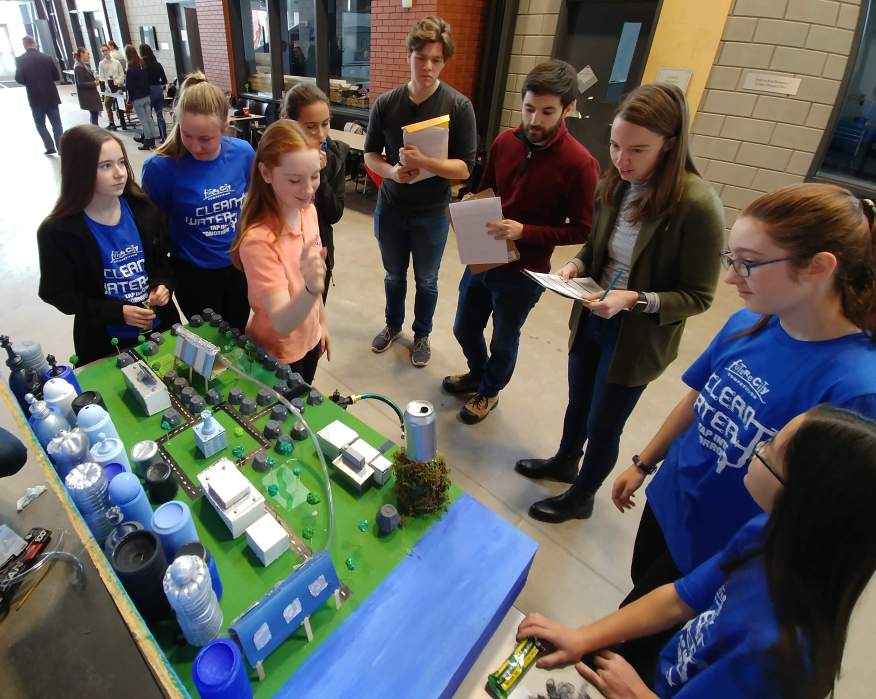 Future City starts with a question—how can we make the world a better place? To answer it, 6th, 7th, and 8th grade students imagine, research, design, and build cities of the future that showcase their solution to a citywide sustainability issue. Past topics include stormwater management, urban agriculture, public spaces, and green energy. The 2019-2020 theme is "Clean Water: Tap into Tomorrow". Teams were tasked with choosing a threat to their city's water supply and designing a resilient system to maintain a reliable supply of clean drinking water.
In the Atlantic region, we had 15 student teams working to solve this year's challenge. Seven of those teams competed at the regional competition on January 18, 2020 at the University of Prince Edward Island, Faculty of Sustainable Design Engineering building. At the regional competition, the students are judged by local engineers on their project presentations, project models, and other special award categories including most sustainable design, best moving part, and people's choice. After the morning presentations, the top three teams presented in the finals in front of all the teams and the general public, and the winner was selected from there. Finalists have the chance to compete at an international competition in Washington, DC in February.
Why do you think it's important for children to participate in Future City?
Future City pairs students with local engineering mentors to solve practical engineering problems that will face us in the future. Students are given the opportunity to do the things that engineers do—identify problems; brainstorm ideas; design solutions; test; retest and build; and share their results. After going through the process, students tell us feel like they have a much better idea of what engineers do and what's involved with the engineering design process. Student participants are not only prepared to be citizens of today's complex and technical world, but also poised to become the drivers of tomorrow. Notably, also 60 per cent of this year's participants were girls. 
What were some creative solutions this year's participants came up with?
Thirsty concrete: In this city, the roads/parking lots are made of permeable asphalt with collector pipes beneath. The collector pipes lead to underground cisterns where the water is then pumped to a treatment center in order to purify with flocculation, coagulation, filtration, and finally chemical treatment, before distribution. This system eliminated the need to pull from groundwater reservoir or other surface sources.
Desalination: In this entry, an energy efficient desalination system converts ocean water into clean fresh water, while providing other useful byproducts from the remaining brine solution. The plant used ocean waves and current in order to power this desalination process.
Micro-filtration: This futuristic Venice took a different approach in using a distributed system of micro-filtration within every building, because the aging infrastructure and regular flooding there was continually contaminating the water mains.
Water cycle: This city did a complete recycle of all wastewater. The city's sewage treatment systems were so effective that the effluent was clean enough to circulate back into the clean water system after some final treatments and analysis.
What are some of the most exciting things that happen at the event? Any good stories?
The day before the event we had a terrible snowstorm on PEI, with all of the schools, colleges, University, and government offices closed under whiteout conditions. One team was planning on using that last day to finalize their model; however, as it was at the school, they did not have access, so throughout the whole day their teachers were trying to organize a way for them to gain access to pick up their model for the competition.
They were able to talk their principal into letting them in. However, due to the conditions, their principal got stuck in a ditch on the way to the school and had to get towed out. In the end, they were not able to pick up the model until early the next morning, so they arrived 1.5 hours before the event with paint in hand to do the final touches on their model. So, within that 24-hour period they went from thinking that they may not be able to attend after putting four months of work into the program, to making it to the final three. It was especially great to see a first-time school do so well.
In talking with the students during the event, very few knew what engineers did before this program. Many seemed to be interested in engineering as a career option, as we provided a tour of the engineering building and let them interact with the engineering students and showed them all the interesting project going on—a student Baja club, 3D printing lab, robotics lab, renewable energy lab, bio-resources lab, etc.