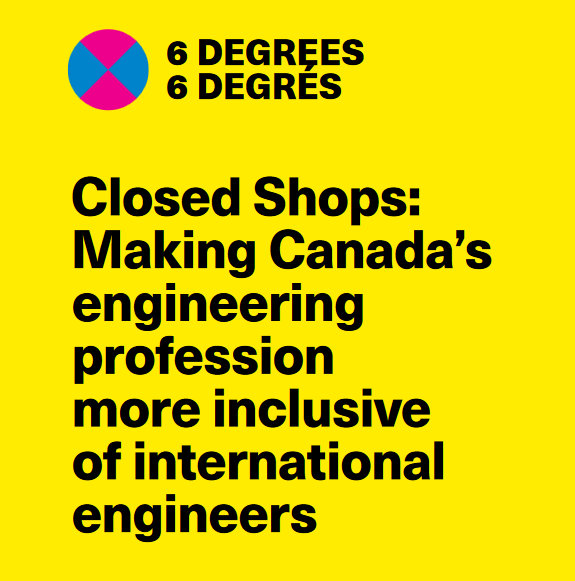 In a report released on September 26, 2018, the Institute for Canadian Citizenship (ICC) and 6 Degrees have made a series of recommendations directed at Engineers Canada, engineering regulators, federal and provincial governments, and other stakeholders that it says will improve the immigration, licensure, and employment processes for international engineering graduates in Canada.
"The ICC and 6 Degrees have put together a report on a topic that holds great importance for the engineering profession," said Gerard McDonald, MBA, P.Eng., Engineers Canada's CEO. "The report included Engineers Canada in a number of its recommendations, and we are taking a detailed look at these."
Closed Shops: Making Canada's engineering profession more inclusive of international engineers finds that international engineering graduates (IEGs) have a more difficult time finding employment than Canadian-educated engineers. It argues that IEGs are an important economic opportunity for Canada, but that a complex and unclear system that varies from one province or territory to another creates a systemic bias that disadvantages these IEGs.
The report recommends streamlining the immigration, engineering licensure, and professional employments processes to produce a more inclusive engineering profession.
The report directs its recommendations towards Engineers Canada, the provincial and territorial engineering regulators, immigration officials, policy-makers, fairness commissioners, employers, universities, settlement support agencies, and IEGs.
Recommendations range from improvements to the immigration process, changes to the licensure process, and better supporting newcomers in their employment search and integration.
"Immigrating to Canada can be a stressful, complicated experiences, made more challenging when the complexity of engineering licensure is added," McDonald added. "Engineers Canada is committed to ensuring newcomers have access to information on the process, and to supporting the engineering regulators in balancing the demands for maintaining the high standards of licensure with the importance of a smooth and efficient process for applicants."
One of the key challenges that newcomers face is that the complexity of the process isn't clear until after they arrive in Canada. Engineers Canada's Roadmap to Engineering website is intended as a tool to ensure international educated engineers recognize, before they immigrate to Canada, the steps that need to be taken to become licensed so they can be best prepared.
In addition, the report makes clear that more work needs to be done to ensure new Canadians have better access to the social networks that facilitate finding relevant and fulfilling work, especially while a licensure application is in process.
The ICC is a national charity that delivers programs and special projects that inspire inclusion, create opportunities to connect, and encourage active citizenship. Presented by the ICC, 6 Degrees is a global forum on citizenship and inclusion. In 2017, the ICC and 6 Degrees launched its Closed Shops series of reports, which examine the barriers that internationally educated professionals face in Canada. The first report examined the requirements for foreign-trained lawyers to enter the legal profession in Canada and made 25 recommendations for how a variety of stakeholders could make a more inclusive environment.