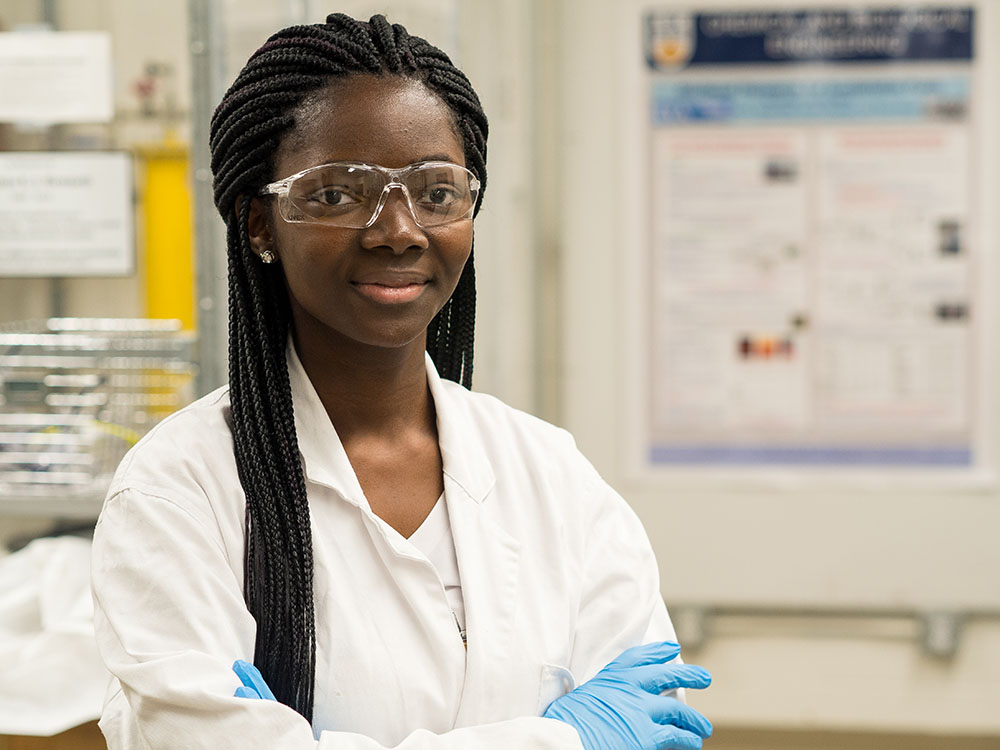 "I have always admired people who strive to make a difference in their daily lives," Onyinye Ofulue says, "and every day I strive to be one of them." 
As a recent graduate of the Chemical and Biological Engineering (CHBE) program at the University of British Columbia, Ofulue feels that the crucial experience and expertise she's gained through the program has allowed her to cultivate a passion for sustainability, and particularly renewable fuels, that she started developing when she was in high school. 
"Engineering is a degree that expands your ability to think," she says. "It trains your brain to work in a problem-solving mode, which is helpful in applying technical knowledge and excelling in other avenues of your professional career."
In its current form, the Department of Chemical and Biological Engineering was established in 1999, having been re-envisioned at that time to meet the growing need for engineers in the fields of biotechnology, biomedical, and bio-resource engineering. According to Department Head Peter Englezos, the department aims "to educate and conduct research in an environment that fosters breakthroughs and teaching innovations, while supporting students, faculty, and staff to succeed."
For students, a key part of that success is the opportunity to do multiple co-op terms during their undergraduate degrees. In Ofulue's case, she says her four co-op terms provided real-world experience that allowed her to apply the technical knowledge she'd been learning about in the classroom.
She was also able to immediately apply her knowledge beyond the program, joining and eventually leading the UBC Chapter of Engineers for a Sustainable World (ESW). The non-profit network, which has over 50 chapters and 1500 members worldwide, draws people together to address challenges in technical sustainability.
For Ofulue, this meant spearheading an effort to reuse UBC's growing amount of food services waste oil in the production of biodiesel, an alternative to regular diesel with a significantly lower environmental impact. Through the initiative, using CHBE lab facilities, they were able to safely produce 250 liters of biodiesel, enough to fuel one of the UBC housing services trucks. This accomplishment resonates with one of Ofulue's biggest takeaways from her degree: "A good engineer is one that looks for the most efficient way to solve a problem." 
The opportunity to advance sustainable solutions to real-world issues also came with other important benefits for Ofulue's growth as an engineer, too.
"ESW gave me an opportunity to work in a collaborative environment with like-minded peers and faculty members at UBC," Ofulue says. "Also, meeting and interacting with fellow ESW members and faculty from other top universities in North America gave me a platform to engage in intellectual discussions and hone my leadership skills."
This played a big role in what Ofulue says was one of her most valuable lessons as an engineering student at UBC: "You cannot ride solo." She says that friends, professors, and extracurricular supervisors supported and advised her during her time in CHBE, making her education a more memorable and meaningful experience. 
Indeed, her story illustrates the ways that engineering classrooms can become a launching point for a whole range of other learning experiences that ideally take place during a student's post-secondary education.