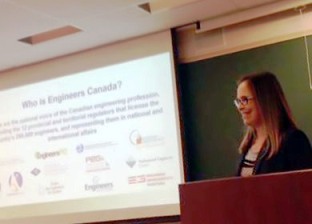 Stephanie Price, P.Eng., CAE, Chief Operating Officer of Engineers Canada, presented on 30 by 30—Engineers Canada's initiative to raise the percentage of newly licensed engineers who are women to 30 percent by the year 2030—at the Advancing New Canadian Women in Technology (ANCWT) sessions at the University of Ottawa on Friday, March 9, 2018. ANCWT is a bridging employment program for newcomer women, such as new immigrants and Syrian refugees who have training in engineering, technology, computer science, and information technology from outside Canada.
The goal of ANCWT is to help women enter the Canadian job market as quickly and effectively as possible, and the program has garnered support from organizations such as PEO, NSERC chair for Women in Science and Engineering, and the Faculty of Engineering at the University of Ottawa. The session, which was delivered as part of the ANCWT's training sessions running from February 21st to March 18th, included an engaged discussion on 30 by 30, as well as a presentation by Moody Farag, P. Eng, Licensing Manager at PEO on licensing and EIT. Still in its pilot year, ANCWT aims to expand recruitment and funding opportunities in the coming months.
Notably, Price's presentation took place just days after another 30 by 30 presentation given by David Lapp, FEC, IRP, P.Eng, Practice Lead Globalization and Sustainability for Engineers Canada at the NAPEG 2018 Professional Development Symposium.