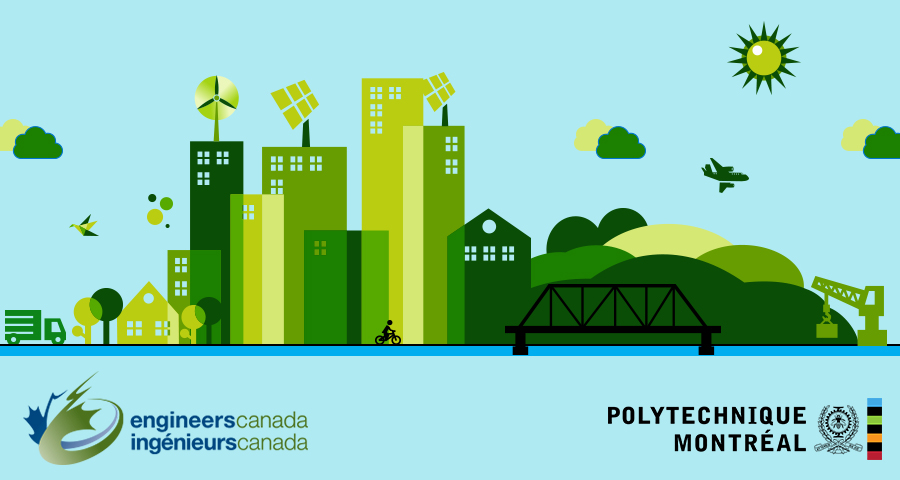 Since launching last month, Engineers Canada and Polytechnique Montréal's massive open online course, Sustainability in Practice, has garnered 1,500 registrations, with participants from every Canadian province and territory, and from 57 countries.
And those numbers continue to increase, with registration for the course staying open until November 19, 2018.
Launched on October 24, 2018, Sustainability in Practice is a free online course that uses real-life case studies from across Canada to demonstrate the practical application of Engineers Canada's 10 guidelines on sustainable development and environmental stewardship. The course is an excellent professional development opportunity for engineers to learn how to integrate these principles into their day-to-day work.
"As designers, planners, and builders, engineers have an important role to play in sustainable development and environmental stewardship, as they must think about integrating these concepts early in their design or planning process," said Patrick Cigana, ing., Senior Advisor at Polytechnique Montréal's Sustainability Office and one of the coordinators of the course. "With regards to climate change, engineers must manage risks associated with it, again through careful long-term planning."
And this applies, Cigana describes, to every engineering discipline, and across all sectors. The MOOC has participants ranging from the construction to the petroleum industries, and from computer engineering to hydroelectricity. Some work in the private sector, others in the public sector, whether it be for municipalities, provinces, or the Armed Forces.
Most participants are taking the course with the goal of integrating the principles of sustainable development and environmental stewardship into their work, but some are looking for a more general introduction to these principles, which is offered during the course's first module, and illustrated with real-life case studies in the later modules. Still others have registered for the course to better understand engineers' viewpoint on questions of sustainability and stewardship.
The range of disciplines, sectors, and motivations of the participants, Cigana says, illustrates just how important and timely the course topic is.
"There is not a single project, product, or process whose environmental and social impact cannot be optimized through good upstream planning. Of course, it's complex, because we don't yet understand the full scope of the impacts that climate change will have in 50, 75, or 100 years, but engineers need to keep their knowledge up to date and should not hesitate to take advantage of the expertise of other professionals."
To facilitate these conversations between participants, the course includes online forums for questions and discussions, which have so far seen a lot of activity.
"People really want to share their experiences. Specific forums on the course content provide an opportunity for participants to exchange their views on the subject and share their experience. The teaching team is of course present to lead, but the participants also share with each other—this is the primary purpose of the forums, and from our point of view, it is very stimulating.
Registration for Sustainability in Practice remains open until November 19, 2018. Though the course is already underway, participants have until December 17, 2018 to complete the course, allowing them to complete the modules at their preferred pace. Hosted by Polytechnique Montréal on the EDUlib platform, the course is available in both English and French, and participation is free. Register on the EDUlib website.