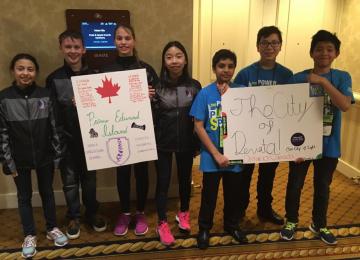 On February 21, 2017, students from Alexander Graham Bell Public School in Ajax, ON, and Grace Christian School in P.E.I., traveled to Washington, D.C. to compete in the Future City Finals against 41 other teams from three the United States, China and the Middle East. 
The students had been working on their visions of a future city for much of the school year and had research, designed and built their city models with the support of their teachers and an engineering mentor.
At the finals in Washington, the student teams presented their models to a panel of judges, and had the opportunity to interact with hundreds of other students from the who are just as passionate about their Future City designs. A recording of the Finals livestream can be viewed on the Future City YouTube feed.
"The whole journey over the course of this year has been an incredible learning opportunity for students," said Julia Chehaiber, Engineers Canada's Practice Lead, Community Engagement. "Future City has given them the chance to interact with engineering professionals as well as other kids their own age who are passionate about learning more about the 'E' in STEM."
"Future City has also been a terrific development experience for educators, and the schools, students and engineers are all excited about the deepening partnership between the engineering community and classrooms that will give youth more access to engineering programming."
This was the first year that students from Canada participated in the Future City finals. Grades 6, 7 and 8 students from eight schools in P.E.I. and from 50 classrooms in the Durham District School Board in Ontario competed at regional finals held in January for the chance to travel to Washington to compete in the finals.
To view the incredible creativity displayed by these students, browse through photos of the regional competitions on the Engineers Canada Facebook page.
For more information about the Future City Competition, visit the Future City website.
Future City is a program of DiscoverE.