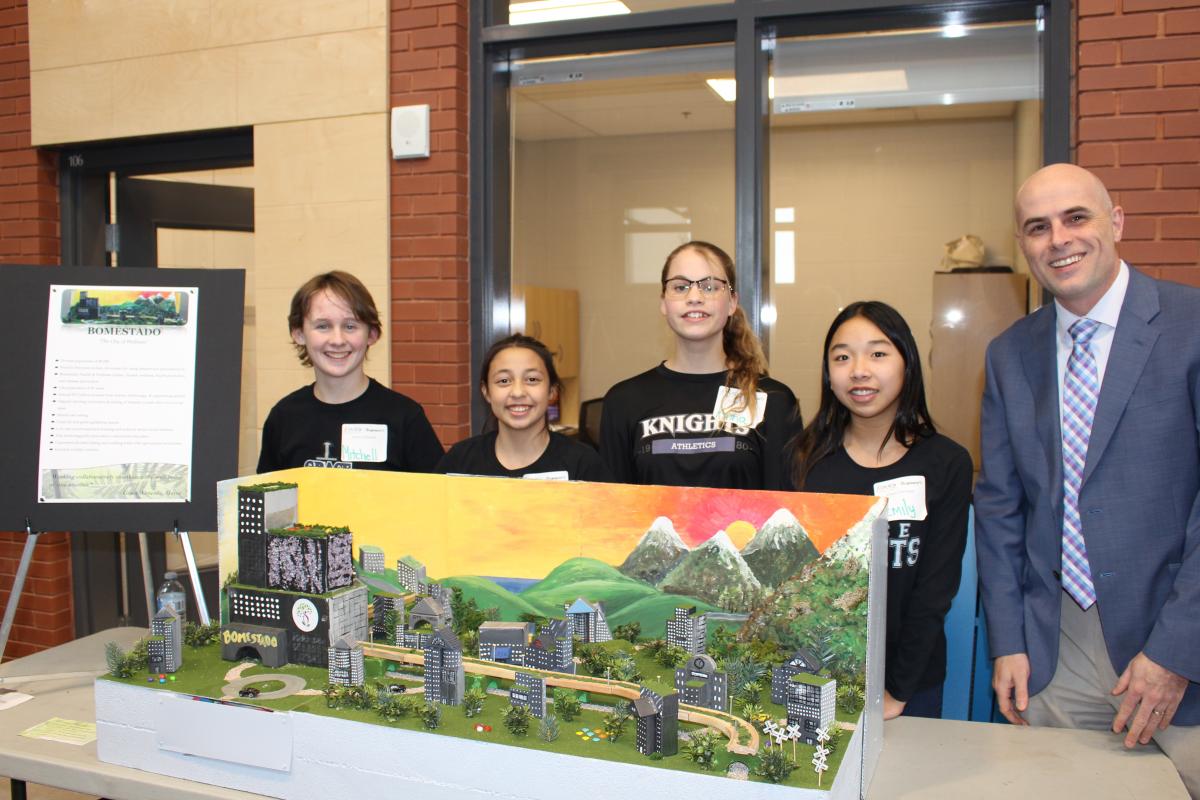 At a competition at the Durham District School Board yesterday, students from Alexander Graham Bell Public School were named the winners of the inaugural Future City Competition in Ontario. They will join a team of students from Grace Christian School in Prince Edward Island who will travel to Washington, D.C., in February to compete against teams from across North America at the Future City Finals.
The Future City Competition, a program of DiscoverE, has been held annually in the United States since 1992, and this year, on the occasion of the competition's 25th Anniversary, Engineers Canada brought the competition to 50 classrooms in the Durham District School Board in Ontario and to eight classes in Prince Edward Island.
"Our students in the Durham District School Board are loving the Future City competition," said Lisa Lim-Cole, Science and Technology Program Facilitator for the Durham District School Board (DDSB). "As teachers, we've seen our students really engage with the engineering process and they're readily making the connections between their language, geography, math and science curriculums."
The competition asks students to imagine, research, design and build their vision of a future city that addresses a citywide sustainability issue. The theme of this year's competition, The Power of Public Space, challenged students to design innovative, multiuse public spaces that serve a city's diverse population.
"We're thrilled that with the generous contributions of our sponsors, we were able to bring the Future City Competition to Canadian students," said Kim Allen, MBA, FCAE, FEC, P.Eng., Chief Executive Officer of Engineers Canada. "We hope that the competition will be the spark that inspires these students to become the next generation of engineers and continue contributing their innovative ideas and solutions to societal challenges."
The Future City program and associated activities are directly integrated into the Grades 6, 7 and 8 curricula, and students have been working on their cities as a class, with guidance from their teachers and a STEM mentor, since the beginning of the school year.
"Future City is an exciting and innovative way to bring the engineering design process into Canadian classrooms," said Julia Chehaiber, MEBT, Practice Lead, Community Engagement at Engineers Canada. "The program engages students in a way that teaches research, writing, public speaking and problem-solving skills—21st century skills that will serve them well."
The program requires students to present their solutions by designing a virtual city, writing a 1,500-word essay, building a scale model, creating a project plan and presenting their future city to a panel of judges at regional competitions. 
A regional competition was held on Saturday, January 21, 2017, in Prince Edward Island, where approximately 70 students from eight classes presented their city models, project plans and essays to judges who selected a winner.
"The students at Grace Christian are very excited to represent P.E.I. in Washington and share their design for a future that reduces the obesity rate," said Libby Osgood, PhD, P.Eng., Assistant Professor at the School of Sustainable Design Engineering at the University of Prince Edward Island. "And as a result of this competition, all students in the eight classes and schools who participated will benefit from the connection they now have with a professional engineer, which will help them with their future STEM projects and activities."
The P.E.I. and Ontario finalists will both travel to Washington, D.C., in February for the Future City Finals. The four-day competition will see the two Canadian teams compete against other regional finalists from across the United States, a team from China and a team from the Middle East. The ultimate winner will take home the grand prize of a trip to U.S. Space Camp and US$7,500 for their school's science, technology, engineering and math (STEM) program.
Engineers Canada was able to bring the Future City Competition to Canada thanks to the generous contributions of the competition's Canadian sponsors: TD Insurance Meloche-Monnex, Great-West Life, Manulife, the Durham District School Board, the Leacross Foundation, Engineers of Tomorrow, Engineer-in-Residence, Engineers PEI, the University of Prince Edward Island and the University of Ontario Institute Of Technology. Numerous volunteers, educators and STEM professionals have also kindly contributed their time and expertise to serve as mentors, judges and organizers to ensure that the participating students enjoy a truly valuable experience.
Engineers Canada intends to grow the Future City Competition in Canada in the coming years to include students from more school boards across all 12 Canadian provinces and territories.
"It's estimated that by 2050, 70 per cent of the world's population will live in cities," said Jeanette M. Southwood, M.A.Sc., FCAE, FEC, P.Eng., IntPE, Vice-President, Strategy and Partnerships at Engineers Canada, and formerly Global Sustainable Cities Leader with a large global consulting company. "With engineers being amongst those in demand to solve the world's problems, inspire innovation and improve quality of life, the next generation of engineers will have an immense impact on the cities of the future."
For more information, contact:            
Brent Gibson
Practice Lead, Communications
Engineers Canada
613.232.2474 x234
brent.gibson@engineerscanada.ca