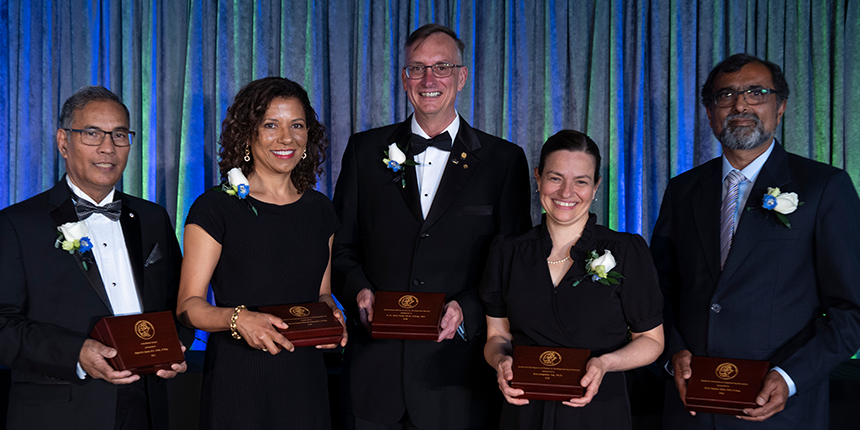 Engineers Canada is celebrating the exceptional work and achievements of six trailblazers in engineering. At the 2022 Awards Gala, taking place in Toronto, the six award recipients are being recognized for excellence in engineering and their outstanding work that will have a lasting impact in Canada and beyond.
This year, Engineers Canada honours six remarkable members of the engineering community who have contributed to improving the lives of Canadians and others around the world through innovation, creativity, and a commitment to the profession. They are engineers and engineering students who, through their work, have improved our lives in tangible ways.
These award recipients are leading examples of how engineers work collaboratively to better our world. From incremental improvements to revolutionary new solutions, engineers are at the forefront of innovations that make our lives better, safer, and more productive.
Following the Awards Gala, Engineers Canada will launch an online celebration on our social media platforms. Stories of the engineers' achievements will be shared in a series of online videos and posts, highlighting how their contributions are transforming the lives of people today and tomorrow. These individuals are shaping the world through engineering education, academic research, community involvement, the advancement of women in engineering, and creating solutions to help tackle our society's most pressing challenges. They exemplify the outstanding contributions engineers are making at all stages of their careers and the broad range of those contributions. 
The 2022 Award recipients are:
Digvir S. Jayas, O.C., D.Sc., P.Eng.- Gold Medal Award
Bob Dony, PhD, FEC, P.Eng.- Meritorious Service Award for Professional Service
Sandra Odendahl, P.Eng.- Meritorious Service Award for Community Service
Sanjeev Bedi, PhD, P. Eng- Medal for Distinction in Engineering Education
Eve Langelier, ing., Ph.D.- Award for the Support of Women in the Engineering Profession
Stephanie Quon- Gold Medal Student
To learn more about our recipients, visit https://engineerscanada.ca/awards2022
For more information, contact:
Brent Gibson 
Manager, Communications 
Engineers Canada 
613.232.2474 x234 
brent.gibson@engineerscanada.ca