What is Engineers Canada doing to increase the number of women in engineering?
Women make up more than half of the Canadian population but are significantly underrepresented in the engineering profession; less than 13 per cent of practicing licensed engineers are women.
Engineers Canada is dedicated to increasing the participation of women in the engineering profession by identifying initiatives that attract greater numbers of women to engineering, promoting their retention in the profession and demonstrating the value of diversity and inclusivity in engineering education and in the workplace.
30 by 30
A key component of the above objectives is 30 by 30, Engineers Canada's goal of raising the percentage of newly licensed engineers who are women to 30 per cent by the year 2030.
Here's how we're doing so far.
2015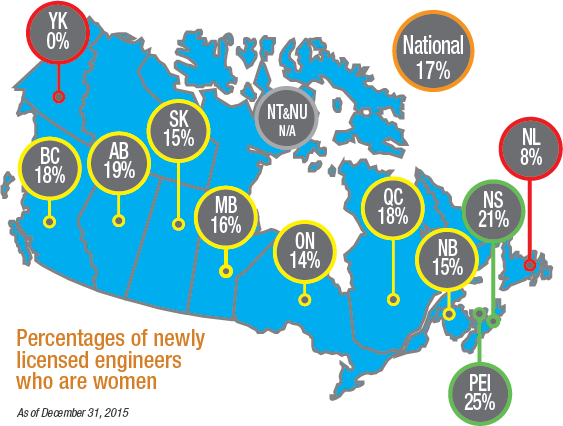 ---
2014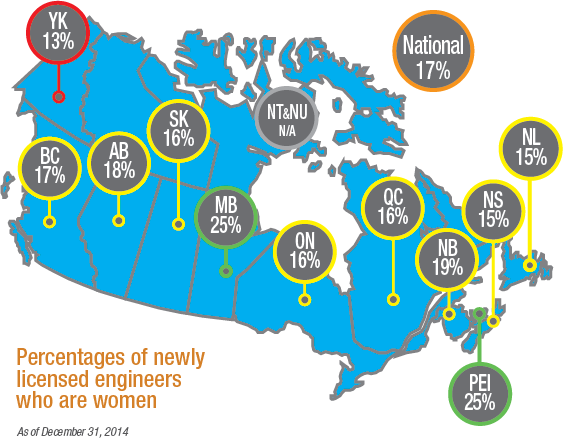 30 by 30 has received national support across all provinces and territories. Engineers Canada collaborates with the engineering regulators and other stakeholders to facilitate a national vision on this issue. Whether it is in academic programs, places of employment or other areas, Engineers Canada seeks to recognize organizations that make significant progress in increasing women in engineering.
Engineering Regulators
Engineering regulators have taken a number of steps to increase the number of women in the engineering profession, including, but not limited to:
assigning a 30 by 30 champion on their Council
presenting an Award for the Advancement of Women in Engineering as a means of recognizing and promoting diversity objectives
creating Women in Engineering Committees, with specific budgets and reporting at a senior level
instituting formal diversity tracking and reporting at every Council meeting
Universities
Engineers Canada also recognizes the following undergraduate engineering programs for having women account for 30 per cent of their first-year students or having specific initiatives in place to increase the percentage of women among their students:
University of Toronto – Women now account for 40.1 per cent of first-year students in U of T engineering programs—a record for the Faculty and a number that surpasses all other Ontario universities.
University of British Columbia – Nearly three out of 10 students in UBC's first-year engineering programs are women and UBC Engineering has set a goal of 50 per cent female enrollment by 2020.
York University – The Lassonde School of Engineering launched a new $1.5 million-challenge to become the first engineering school in Canada to reach a 50:50 gender balance.
University of New Brunswick – Engineering at UNB is adopting admission practices that are welcoming to all qualified women applicants to allow them to enter into any engineering discipline of their choice.
Partnerships and Stakeholders
Projects under the 30 by 30 banner also include nationalizing efforts of outreach programs such as the Ontario Network of Women in Engineering (OnWiE)'s Go ENG Girl and collaborating with the WinSETT Centre to increase women's access to leadership training. Engineers Canada is also a proud supporter of the biennial conference of the Canadian Coalition of Women in Engineering, Science, Trades and Technology (CCWESTT).
For more information
Download the 30 by 30 Guide for actions you can take to contribute to this important objective, or refer to the 30 by 30 Brand Guidelines for information on use of the 30 by 30 logo.