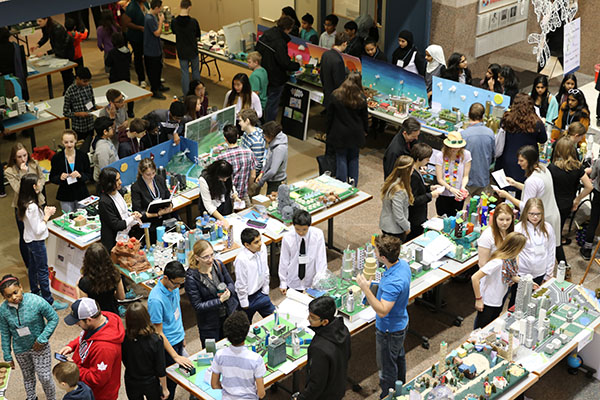 DiscoverE has announced the theme for Future City 2018-2019: Powering our Future. Over the next six months, over 40,000 students around the world will develop their ideas for how to solve climate-related challenges to our electrical grid. 
Natural disasters—earthquakes, tornadoes, or hurricanes—pose serious threats to cities and citizens. The damage from these events can severely disrupt every aspect of life in an affected region. Especially now, in the wake of recent catastrophic events, engineers, architects, and city leaders face the critical task of creating resilient cities.
A resilient city adapts to challenges; it has connected systems and infrastructure in place that limit damage and help the city recover. Physical systems such as infrastructure and housing are built to withstand high winds or earthquakes, information systems such as zoning data and maps are designed to support relief efforts, and institutions such as city management and emergency response are developed to help with recovery. A resilient city ensures its residents are safe, its infrastructure is stable and cared for, and its economy remains durable.
With this pressing issue top of mind, the award-winning Future City Competition, now in its 27th year, is inviting students to design an electrical grid that can withstand and quickly recover from the impact of a natural disaster.
Working in a team with an educator and STEM mentor, students in regional competitions around the world will present their visions of the future through a virtual city design (using SimCity™ software); a 1,500 word city essay; a scale model of their city (built with recycled materials); and a short presentation to a panel of STEM professionals. Select teams from the US, Canada, Egypt, and China will then go to Washington DC in February to share their ideas on the international stage.