After five previous successful offerings and more that 7,800 participants worldwide, registration is now open for a sixth offering of Sustainability in Practice.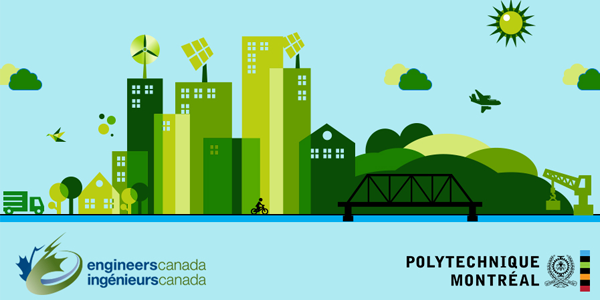 After five previous successful offerings and more that 7,800 participants worldwide, Engineers Canada and Polytechnique Montréal have opened registration for a sixth offering of their free online course, Sustainability in Practice. Register here.
The massive open online course is offered in both English and French and uses real-life case studies from across Canada to demonstrate the practical application of Engineers Canada's 10 principles of sustainable development and environmental stewardship for engineers. It's a great opportunity for professional development that can be completed virtually, and the four course modules can be completed at each participant's own pace.
"Hearing from professionals from several sectors and regions enriched the presentations and gave us practical examples of how the concepts can be applied," said Renato Ferreira of Montreal, QC, who participated in the second edition of the course in spring 2019.
Varinder Mittal of Regina, SK, agreed, saying that "the case studies give an opportunity to learn about the adoption of environmental and social concerns in practice. It was a [great] learning experience."
Participants of the first five editions of the course have been engineers and non-engineers alike, and have worked in consulting engineering, government, education, construction, manufacturing, education, oil and gas, renewable resources, utilities, mining, and non-governmental organizations.
Marilyn Spink, of Toronto, ON, who took the fifth offering of the course in fall 2020, described it as "an enjoyable course which shifts mindsets. Engineers […] see they can be leaders in the area of sustainability and environmental stewardship regardless of their discipline."
After all five previous editions of the course, an overwhelming majority of participants have attested to the high quality of the training content and agreed that what they learned would be useful to them in their professional and personal life. More than 95 per cent of participants have said that they would recommend the course to a colleague or friend.
"Excellent course that reinforces one's comprehension of the issues and challenges of sustainable development in the context of climate changes. I recommend it!" said Djibril Diop of Laval, QC, who took the fifth offering of the course.
The sixth edition of Sustainability in Practice begins March 17, 2021. Participants have until May 14, 2021, to complete the course at their own pace. Registration closes on April 30, 2021. An optional Certificate of Completion is available following successful completion of the course at a cost of $75 CAN.
Register today for Sustainability in Practice on the EduLib website.