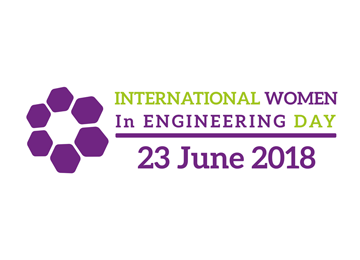 Saturday, June 23, 2018, is International Women in Engineering Day (INWED), an international awareness campaign to raise the profile of women in engineering and focus attention on the exciting career opportunities available to girls in this industry.
For INWED 2018 Engineers Canada and the 30 by 30 Champions are inviting Canadians to join in celebrating the achievements of engineers who are women and their contributions to the profession and the greater Canadian society. 
On Tuesday, June 19, 2018, Engineers Canada will be sharing videos of inspiring women in engineering, illustrating just a few of the many ways that engineering can be a fulfilling and exciting career choice for women. To join in, either as an individual or a group, just film your own short selfie-style video about why being a engineer is important to you and then post it on social media, tagging @engineerscanada and using the hashtags #INWED2018, #RaisingTheBar, and #RaisingProfiles. Make sure to check social media from June 19 to June 23 to watch the videos from across the country and retweet your favorites.
If you have any questions about the campaign, contact cassandra.polyzou@engineerscanada.ca.
In addition to our campaign, the Plant Engineering and Maintenance Association of Canada (PEMAC) is hosting a webcast for INWED 2018 that features a panel of women in engineering on Friday, June 22, 2018 at 12:00 p.m. Central Time. The webcast will feature perspectives from a variety of women in engineering, including Engineers Canada's President, Annette Bergeron. The webcast will also include a discussion of the 30 by 30 initiative.
Finally, if you are in the Toronto area, WE ACT and SWE Toronto have partnered to host a Café Mixer in honour of INWED. This free event will take place on Saturday, June 23, 2018 from 2-4 pm ET at Oakham Lounge (63 Gould Street, Toronto). It will include a panel discussion, networking, and light refreshments.