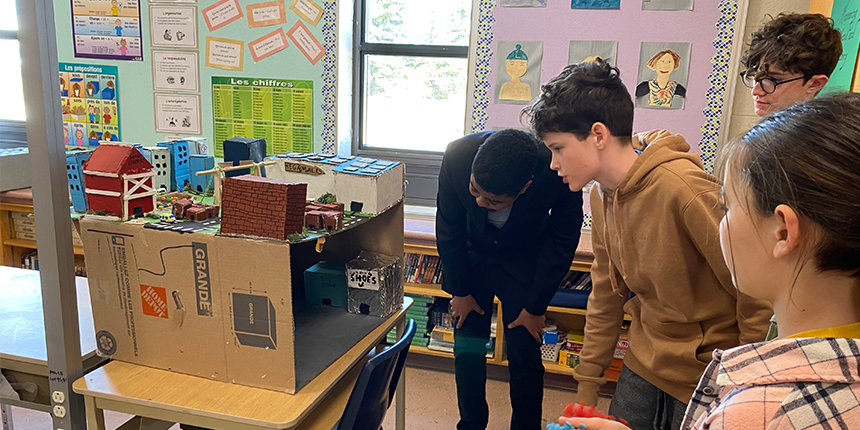 Almost 4,000 students from five provinces are participating this week in the 2023 Future City Experience Showcase hosted by Engineers Canada, Engineers of Tomorrow, and Ontario Tech University on May 10 and 11, 2023.  
This year's Future City Experience has grown by more than 1,000 students since last year, for a total of 55 participating classes. Working in teams, students in Grades 6 through 8 spent February through April using the engineering design process to create a scale model of a waste-free city. They presented their designs during the virtual Showcase to a panel of engineering volunteers to receive feedback, and to have their future city 'stamped' as 'ready to launch' or 'test and redesign.'  
This is the third year of the Future City Experience. Launched in February 2021 as a Canadian pilot program, the Future City Experience is an abbreviated version of DiscoverE's Future City Competition, which asks students to use the engineering design process to research, design, and build a scale model of a city 100 years into the future. The Future City Experience is intended for teachers and students who have never participated in the Future City Competition before and is designed to provide enhanced support to educators in creating positive engineering experiences for students through mentorship with engineers.    
Engineers Canada partners with Engineers of Tomorrow to recruit, train, pair, and support engineering students and engineers who volunteered to serve as mentors for participating classrooms. In total, 147 engineering mentors were matched with classes to act as Future City mentors, and they virtually visited their paired classrooms at least three times between February and April to connect with the students and help them design their waste-free cities.  
Students participating in the English Showcase heard a keynote from Jessica Correa, who has a background in sustainability and works to inspire organizations to take action for the environment; she currently works as the Manager of Sustainability and Social Impact at Loblaws. The speakers for the French Showcase were the moderator, Margot Allain Belanger, an engineer and Outreach Officer at Université de Moncton, Julien Rosset the Director of Expertise, Residual Materials Management at Stantec, and Valerie Bennett, an engineer and the Chief of Strategic Partnerships for Natural Resources Canada. Rosset works in waste management and Bennett works in the field of climate change and energy systems—all very important for creating a zero-waste city!             
Gerard McDonald, Chief Executive Officer, Jeanette Southwood, Vice President, Corporate Affairs and Strategic Partnerships, and Kim Bouffard Manager of Belonging and Engagement, from Engineers Canada, also addressed the students and congratulated them at the virtual Showcase.  
Like any collaborative effort, the Future City Experience wouldn't have been possible without the support of many organizations, volunteers, educators, and students.  
"We also owe a debt of gratitude to our dozens of engineering volunteers," said Kim Bouffard. "They made classroom visits and participated in our live Q&As and in the Showcase to make this an educational and fun experience for the almost 4,000 students who were inspired to think about what life would be like in a zero-waste city."