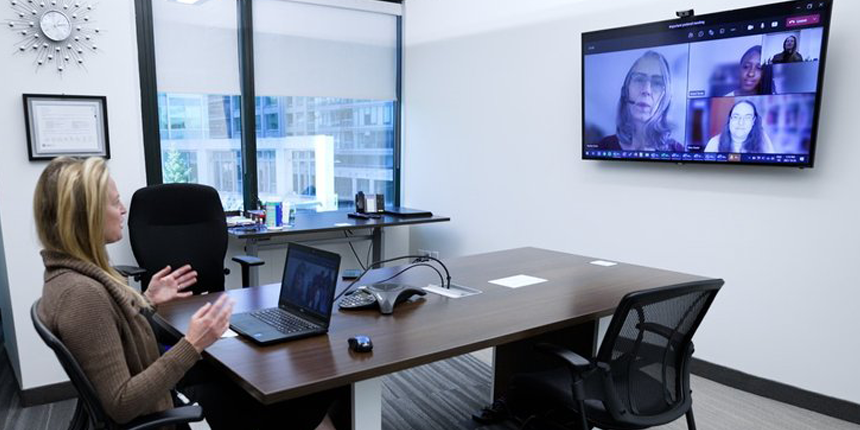 For the fifth year in a row, Engineers Canada has once again been recognized as one of the National Capital Region's Top Employers for 2022.
"As a foundational goal in the Engineers Canada 2022-2024 strategic plan to uphold our commitment to  excellence, this is a meaningful accomplishment for our organization," says Gerard McDonald, CEO of Engineers Canada. "At the core of this accomplishment are staff, who collectively make Engineers Canada an exceptional and progressive workplace through their hard work and dedication."
Through COVID-19, Engineers Canada has made the health and safety of staff paramount. From pivoting to a dynamic virtual work model and continuing to foster an inclusive and collaborative workspace, all while maintaining efficiency, this year's award is particularly driven by Engineers Canada's initiatives implemented during these challenging times.
Here are some of the reasons why Engineers Canada was selected as one of the National Capital Region's Top Employers for 2022:
As part of the organization's response to the pandemic, Engineers Canada provided a one-time payment of $1,000 to help cover the costs of home office set up and also offers subsidized home internet
Additionally, Engineers Canada helped keep employees connected and engaged through a variety of initiatives, including chat roulette, virtual movie nights, a month-long wellness challenge, lunchtime yoga, and a virtual holiday party
 Engineers Canada supports employees who want to start a family with subsidies for IVF if needed (up to $15,000) and recently increased its maternity and parental leave top-up from 70 per cent of salary to 95 per cent of salary (top-up ranges from 37 to 52 weeks, depending on the employee)
This recognition also comes on the heels of Engineers Canada's gold level certification against Excellence Canada's Excellence, Innovation, and Wellness Standard® in 2021.
First published in 2006, the National Capital Region's Top Employers is an annual competition organized by the editors of Canada's Top 100 Employers. This special designation recognizes the employers in the Ottawa-Gatineau metropolitan area that lead their industries in offering exceptional places to work, evaluated on eight criteria: physical workplace; work atmosphere and social; health, financial and family benefits; vacation and time off; employee communications; performance management; training and skills development; and community involvement.
See the list of the National Capital Region's Top Employers for 2022 and learn more about why Engineers Canada was selected.