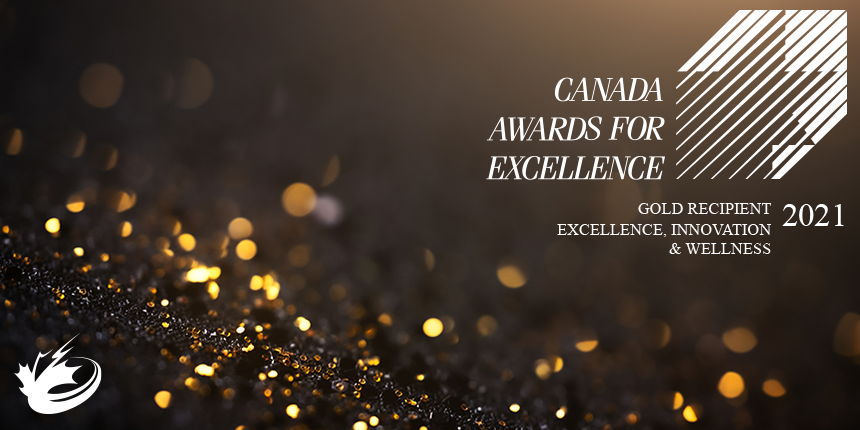 Today, Engineers Canada was honoured with gold level certification against Excellence Canada's Excellence, Wellness, and Innovation Standard®. The award is the culmination of a five-year progression and a focussed effort on improving organizational effectiveness. 
"We're proud to achieve this honour," says Gerard McDonald, Chief Executive Officer of Engineers Canada. "It speaks to a committed effort at all levels of the organization to build continual improvement into the fabric of Engineers Canada. Excellence is not something you are, it is something you do, and we're seeing the impact of this journey every day." 
Engineers Canada celebrates the achievement of gold certification in this acceptance video. 
Known within the organization as the Journey to Excellence, Engineers Canada embarked on this path because it sought a structured, research-based framework for improving the organization. The Excellence Canada Framework for Excellence, Innovation, and Wellness is a means by which Engineers Canada could establish the grounding principles on which to consistently operate, structure a measured approach to continual improvement, and improve the efficiency and effectiveness of the organization in a sustained manner. 
The journey began in 2016 with the target of achieving bronze certification. Key to it was anchoring the process in the culture of Engineers Canada by making it a measured part of multi-year operating plans and leading it from the core of staff instead of as a top-down initiative from senior leadership. By 2018, Engineers Canada had earned silver certification and was on the road to gold. 
On the way, Engineers Canada has advanced its planning processes, including enhanced risk management practices and performance measurement reporting to our Board. Equity, diversity, and inclusion continues to be a thread woven through our organizational culture while a continual improvement mindset has been integrated in all areas of Engineers Canada's operations. Indicators and measurement are at the core of much of our work, and data collection is becoming more relevant as measurement frameworks and program evaluation evolves. 
"This is a celebration, not just of where we are now, but where we are heading tomorrow," says McDonald. "We are an organization committed to our vision of advancing Canadian engineering through national collaboration and our staff are at the centre of this effort through their commitment to excellence." 
The journey for Engineers Canada continues. While the gold certification recognizes the establishment of a comprehensive approach to excellence, the challenge now is to sustain this over the long-term, which is recognized by Excellence Canada's next tier: platinum certification.