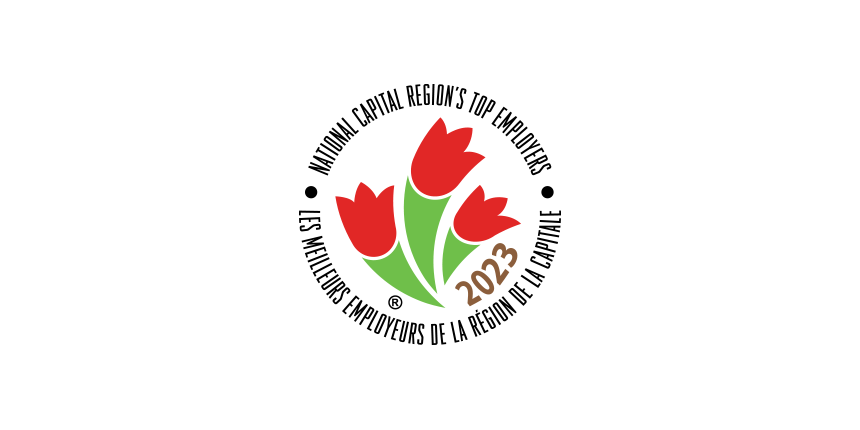 Engineers Canada has been recognized as one of the 2023 National Capital Region's Top Employers
This special designation recognizes the employers in the Ottawa-Gatineau metropolitan area that lead their industries in offering exceptional places to work, evaluated on eight criteria: physical workplace; work atmosphere and social; health, financial and family benefits; vacation and time off; employee communications; performance management; training and skills development; and community involvement.
Engineers Canada was selected as one of the 2023 Top Employers for a number of reasons, including:
Engineers Canada supports employees who want to start a family with subsidies for IVF if needed (up to $15,000) and a generous maternity and parental leave top-up program for new parents (to 95 per cent of salary, ranging from 37 to 52 weeks)
Engineers Canada offers professional development opportunities for individuals at various stages of their career, from tuition subsidies and subsidies for professional accreditation for those looking to advance their education, to mentoring and leadership development programs for experienced personnel
Engineers Canada manages a comprehensive social and wellness program to encourage staff to engage in healthy activities at home and at work -- initiatives include step challenges, walking club, healthy eating lunch and learns, and education on reading food product labels
"Engineers Canada has an organizational culture built and sustained by an extraordinary human capital. It has evolved amazingly as an organization, it providing people with opportunities to grow and proudly contributes to the profession," said Maria Arrieta, Manager, Foreign Credential Recognition at Engineers Canada.
Engineers Canada joins a wide range of public, private and not-for-profit organizations named to the Top 100 list this year, including the Bank of Canada, Carleton University, Children's Hospital of Eastern Ontario, Egg Farmers of Canada, Hydro Ottawa, Universities Canada, and a number of federal government departments and agencies.
First published in 2006, the National Capital Region's Top Employers is an annual competition organized by the editors of Canada's Top 100 Employers.