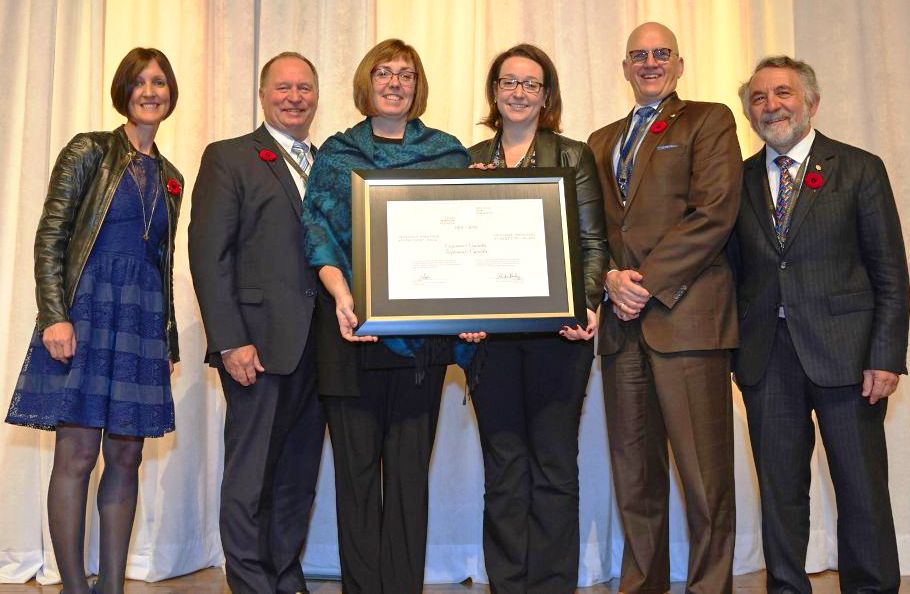 Engineers Canada had a moment two years in the making November 6, 2018. At the Canada Awards for Excellence ceremony in Toronto, ON, representatives officially received silver certification for the Excellence, Innovation and Wellness standard from Excellence Canada.
In total, 25 organizations received recognition this year, across six categories. According to Shirlee Sharkey, Chair of Excellence Canada, "These organizations epitomize excellence in the areas of leadership, planning, customer experience, employee engagement and process improvement."
The ongoing journey to excellence for Engineers Canada formally began on January 19, 2016, with a presentation to the executive leadership team made by Colin Brown, Engineers Canada's Vice President, Operations.
"We want to strive towards a state where the organization continually improves performance, is innovative, competitive, and customer-focused, is healthy, inclusive, and sustainable, and is economically, socially, and environmentally responsible," says Brown.
To address the complex stakeholder system within which Engineers Canada operates, the executive team decided that the journey to excellence would most effectively be approached by rolling it into existing annual operating plans, driving change from within the organization via an Excellence Council, and structuring the journey as separate initiatives corresponding to the achievement of the bronze, silver, gold, and platinum levels of the Excellence, Innovation and Wellness standard.
"This approach was the executive team's way of saying that excellence activities must become an integral part of what we do, not something we just add on," notes Brown. He says that, "Since the initial decision to pursue this approach to excellence, it has indeed become an important part of our identity as an organization."
Notably, while the silver certification is an important milestone for Engineers Canada, bigger things still lay ahead on the organization's journey to excellence. The ideal timeline for achieving gold-level certification happens to fall on the same year as the next summer Olympics—2020.
As Gerard McDonald, Chief Executive Officer said to staff, "There's no better time to go for the gold!"
In addition to the organizations honoured at the ceremony on November 6, three well-known Canadians were also presented with the Excellence Canada Board of Governors' Special Recognition of Achievement Awards—George Cope, President and CEO, BCE Inc. and Bell; Peter Mansbridge, former CBC News Anchor; and Rick Mercer, television personality and political satirist.
The Canada Awards for Excellence is the nation's pre-eminent recognition of organizational excellence. Over the past 34 years Excellence Canada has recognized more than 650 organizations in the private, public and not-for-profit sectors that have met the highest standards for quality, excellence, innovation, and healthy workplaces.