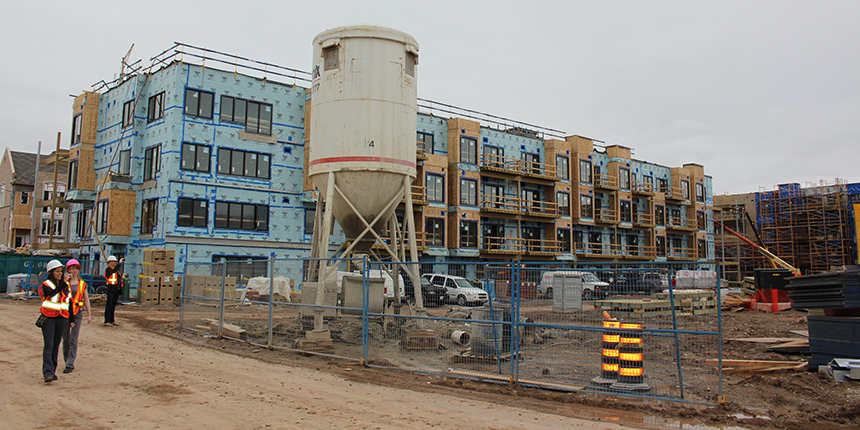 Mary Alexander brings her passion and love of conquering challenges to create beautiful and functional community spaces. 
When Mary Alexander, P.Eng., originally planned to be an architect, she would build tiny paper models of the buildings she was designing. She was supposed to be considering the aesthetics, but her concerns were much more straightforward: "How do I even know this will stand up?" The functionality of the building, and how it worked in real life, were much more interesting problems to consider.  It wasn't long before Alexander switched her career goals from architecture to structural engineering. 
Alexander's work as a structural engineer is specialized in timber and complex geometry. Her focus is on creating beautiful, functional buildings for communities who need them. She has worked on a number of projects, from research buildings to senior homes, and the common point between each is that they are sustainable, efficient buildings that serve their community. 
From ashes to alter 
The St. Elias Church is a quintessential example of what structural engineers can provide for communities. The original St. Elias Church had burnt down in its entirety, and the congregation was devastated.  
"It was just awful to hear about, " says Alexander. "The church had raised funds and they wanted to rebuild their same church… They wanted their church back. And why not? Because it was absolutely beautiful to begin with."  
There were a lot of structural aspects that needed to be considered. The church's design had to be adapted to take into consideration current building codes. But at the same time, advances in engineering presented new opportunities. For instance, clever use of glue-laminated timber would allow them to open the area near the altar that had previously obstructed the congregation's views.  
Another important feature were the five iconic, copper-clad cupolas, the largest of which ultimately weighted over 18,000 kg. "It was an engineering feat just to get them up!" Alexander remembers the site fondly for these pieces. "They are quite a complex shape, not one that you would think you could do out of wood, but we did it."  
The challenge of learning to work with an uncommon material, one that was good for the environment, was part of what drew Mary Alexander to working with timber.  
"I really like the sustainability aspect of it. If we're going to talk about building sustainable buildings and designing with LEED, a big part of it is the structure itself. If you can use a building material that's renewable and sequesters carbon from the air instead of emitting carbon, that's a huge bonus."  
Timber, as an environmentally sound building material, contributes to serving the next generation by providing cleaner air and using less wasteful materials. On sites like the St. Elias Church project, the smell of fresh-cut cedar creates a unique fieldwork experience, where even a construction site can smell fresh and wonderful, and a team of engineers can watch a community's church come back to life.  
Teamwork is central to success 
The City of Welland is a similar community that was in need of a helping hand. They contacted Moses Structural Engineering, where Alexander works, to commission a new fire station. For this project, the community's well-being was top priority.  
"As engineers, we have to look out for the public and the public's well-being. One of our core values in our company is lasting impact. How is this going to impact the community?" says Alexander.  
She explains that one of the ways they kept this top of mind was to have everyone involved in the project travel out to Welland. They toured the fire hall that they would be replacing and met with the Fire Chief and firefighters who would be using the building.  
"You could really see how much importance this building had for them. It's not just a fire station, it's for the community as well. And they wanted something that was very iconic for the community, so I was really drawn to this project." 
By "everyone" Alexander is referring to a larger number of people than one might associate with engineering. A structural engineer doesn't work alone any more than an electrical engineer or mechanical engineer does. 
"It's definitely a team effort," Alexander says, "It's not a one person confined in a room. You're working with a lot of a lot of different people and you interact with everyone."  
For the fire station, the integrated project process allowed them to save their clients money on both time and material costs, through constant communication and collaboration. The end result tackled the challenge of the large open spaces required for the fire-fighting equipment and trucks, and light wood frame trusses kept the upper levels open while structurally insulated panels were used for the outer walls. 
Buildings like Welland fire station No. 2 really encompass the ethos of structural engineering. "Above all else it's public safety that matters most," Alexander says. "We're thinking about the future and thinking about future generations. We're not just going to design and build a building that works. We're going to think of the sustainability, designing it to be efficient and to make the best use of materials." 
When structural engineering is done right, no one thinks about it. If a person walks into a building and assumes the floor will hold them up and the walls will stay standing, then Alexander knows that her job has been done well, and that the public trusts their work.  
Bridging beauty and safety 
Working with wood in structural design has its skeptics, and this is especially true when it comes to wooden highway bridges.  
While extremely rare in Canada and the United States, they are much more common in Europe. Alexander helped develop Ontario's Wood Bridge Reference Guide specifically to teach other engineers and building officials about the possibilities of working with wood in wooden bridge designs. She spoke passionately about her craft and how invigorating it was to bring this knowledge to her professional community. 
"There's a lot of detailing and design work that goes into it, and these bridges could last for a really, really long time," Alexander explains. "It was really exciting for me because it was the opportunity to reach out to not just the public but to the engineers and say, this can be done." 
The reference guide provides information about the safety of these wooden structures and dispels myths that wood is going to deteriorate, burn, or break under the pressure when in use. 
The value of an engineer 
When asked to name one of the biggest challenges for structural engineers, Alexander says it is the misperception of what they do. "It's understanding the value of an engineer, and what an engineer can do for you," she says.  
Often structural engineers are called in after the plan is underway and key decisions have already been made. "Our struggle is getting us in a little bit earlier into the design to help massage things. I'm not just going to design a building, I'm also going to try to help you do something that's more efficient and better in the long run." The integrated planning in the Welland fire station project is an example of design planning done right.  
This career is never a doubt for Alexander: "This is how I know I made the right choice. If it's something that you're passionate about and if it's difficult, then you know you've picked the right thing to do. I'm going keep that passion going and continue to strive forward and make the best that I can with myself."  
For structural engineers, everyday can be challenging, rewarding, and constantly changing. Their work stands tall—or supports from beneath, curves in new and interesting ways, delights the eye as part of the scenery. For every job, it's essential that they're doing the best job possible.