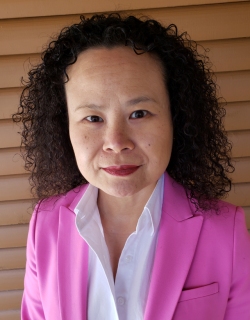 Associate Professor, Faculty of Sustainable Design Engineering
University of Prince Edward Island
When the COVID-19 pandemic forced the University of Prince Edward Island (UPEI) to suspend in-person classes in mid-March 2020, Professor Amy Hsiao had to quickly rethink the rest of the semester and prioritize which content needed to be delivered through online class sessions.
"But the most important thing was to communicate to the students at the time that you cared and that you wanted to see them through," says Hsiao, an associate professor in the Faculty of Sustainable Design Engineering.
With the end of the semester and the immediate impact of the COVID-19 pandemic behind her, Hsiao has turned her attention to the future. She has been invited to join 27 other Islanders on the Premier's Council for Recovery and Growth, which will engage Islanders and organizations in creating a plan for recovery and growth potential on PEI over the next one, two, five, and 10 years. The Council held its first virtual meeting on June 1, 2020.
Hsiao hopes that engineering will be at the forefront of recovery, and says that she told the Council, "Use engineers. We're here."
"Engineers have always impacted their communities. Use us, we're here. We're not only experts at being able to solve highly technical problems, but we're citizens of our communities and able to articulate what's going on and participate in our communities. Hopefully I can be an example of that, of an engineer who can be a citizen and a technical expert."
Hsiao points out that if there's a silver lining to the pandemic, it's that it presents an opportunity—and indeed forces us—to do things differently and to think in a different way.  
"The pandemic has brought forth how important it is for there to be an open-mindedness to a new perspective," she says. "I don't think we have a choice now to plan the same way that we've done it in the past. It's now, 'how can we do things better in the future?' Not to see challenges as limitations or obstacles, but to see them as opportunities. It's a cliché, but I think it really is true."
She points to the effects that the pandemic is having on education as an example, and engineering education in particular. UPEI is introducing a blended model of online and in-person learning for the fall semester.
"Engineering education has been talking for years and years about how we can change the traditional model of learning, teaching, and the engineering student's experience. And now because of COVID, it's almost like—in days and weeks—we have made changes for the better. Not to simplify, but to do things differently.
"Now's our chance. If people can't come on campus, how are we going to make remote really effective? We have an opportunity now to really think about a new perspective and how to present and teach engineering in a different way."