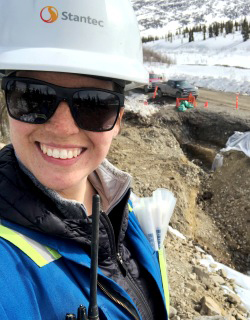 Civil Engineer – EIT
Stantec
Like many other employees across the country, when the COVID-19 pandemic hit Canada, Stantec's Jamie Davignon began working from home in Whitehorse, YT. But when an oil spill occurred seven hours north along the Dempster Highway at the beginning of April 2020, the civil/environmental engineer-in-training found herself headed into the field.
"As we have a small northern office, we rely heavily on technical support from our southern offices," explains Davignon, a member of the Tahltan First Nation. "In most cases, we will have co-workers come to the Yukon and we will provide support to them and learn a little about their speciality. But during the time of a pandemic, co-workers from the South are not able to travel to the Yukon."
Normally, in the situation of a fuel spill like the one in early April, a co-worker from the Emergency Fuel Response team would fly up to Whitehorse and complete the work at the spill. But with the borders closed because of the COVID-19 pandemic, they were unable to do so and instead, Davignon and a colleague had to jump in.
"We both volunteered right away and were happy to help out but even more excited to get out of the home office and learn about a new sector that we had never been involved with before," she recalls. "Our work required a new level of planning–ensuring we could travel and work safely in the height of the pandemic, but we were proud to work quickly, and efficiently to support the spill clean up."
Once they arrived at the site, the remoteness of the site meant that they had to learn how to inspect soil samples through satellite phone calls and InReach text messages. They worked with the contractor to determine the extent of the spill. And they used the Eagle—a device used to measure hydrocarbon vapor concentrations—to determine the approximate spill extent. They took samples on a grid system and sent them to the lab for further testing to determine if the hydrocarbon concentrations are acceptable, and to model the spill area.
Davignon's work in responding to the fuel spill is just one example of the ways in which engineers continue to provide essential work behind the scenes during a time of public health crisis, and just one example of the ways in which engineers support their communities.
"Biochemical engineers work hard on developing equipment to assist those affected with COVID-19," Davignon says. "Computer and software engineers are busy ensuring all employees can work from home. Mechanical engineers are busy increasing the efficiency of ventilation equipment for hospitals.
"All different types of engineers are required to help the world operate efficiently and protect public safety."