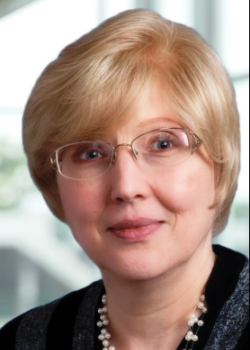 Professor, Faculty of Engineering
University of Windsor
When COVID-19 began spreading around the globe in early 2020, both Jill Urbanic and her students thought, "we need to do something."
"Many of my students are Iranian, and Iran had just been hammered," Urbanic, a professor in the Faculty of Engineering at the University of Windsor, recalls. "I had a student from Torino, Italy, who was going to be doing his Masters with me, and that was shut down—Torino was a hotspot then. It was around that time that there was recognition that this was real, that it was going to [come to North America] eventually."
With that realization, Urbanic and her team set to work on what has since become a half dozen projects ranging from designs for 3D-printed brackets for face shields, to ventilator parts, face masks, and hands-free door handles. But the larger goal of her team's work, she explains, is not simply the production of these products, but the development and improvement of processes so that industry can produce them efficiently, thereby addressing supply chain shortages.
"We're not a production facility," Urbanic says. "That's why we're focusing on novel product and process solutions.
"We're trying to develop product that's useable. We're trying to develop processes to get the time and costs down. And we want to work with industrial partners to bring the supply chain into Canada so that if or when we have problems, we can be responsive."
For example, her team has collaborated with manufacturer Valiant TMS and manufacturing software specialists CAMufacturing Solutions to produce brackets for 3D-printed face shields. The bracket that her team has designed is flexible and conforms to your head, with a cover on the top and a retainer on the bottom. The team applied design for manufacturing principles and used materials that can be cleaned using common cleaning products used for sterilization, making the brackets re-usable in the hopes that reuse would alleviate potential shortages of equipment.
"We've designed it for comfort, we've designed it for reuse, and we've designed it for higher volumes of manufacturability," Urbanic explains.
The products that her team has developed have already been supplied to a variety of frontline personnel, including hospital and EMS workers, and midwives. She envisions that her team's work on these face shields, face masks, hands-free door handles, and other projects will continue on for another six to eight months as the world continues to grapple with the COVID-19 pandemic. Her team is currently working on finessing the designs for a variety of products, and once finalized, she hopes to make them broadly available for industry.
The research team that Urbanic has built since March is multidisciplinary, with graduate and undergraduate students, people from science, engineering, and medicine, and representatives from industry. It's that diversity of experiences and backgrounds that she credits with the team's success.
"There is no one solution in any one field," she explains. "I'm a firm believer in diversity because I know it works. You have multiple perspectives, your solutions are better. That's indisputable."
These diverse team members are united by a shared sense of purpose that Urbanic says motivates everyone on the team to keep moving forward.
"We're all in this together. It's personal for everybody. Everyone knows someone who's older. Everyone knows someone who's frail, or pregnant, or is sick, or vulnerable somehow. And so it's something everyone in the group believes in.
"Daily, the progress may seem really small, but if you look at the progress we've made [since March], it's phenomenal."