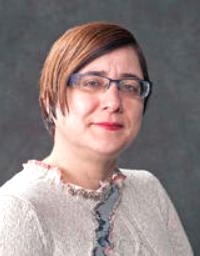 Assistant Professor, Department of Electrical and Computer Engineering
Associate Director (undergraduate), Centre for Bioengineering Research and Education
University of Calgary
At their core, engineers are problem-solvers motivated to make a difference in their communities. That's why, when COVID-19 disrupted daily life in March 2020, a team of engineering students working under Professor Laura Curiel set out to do what they could to help.
"All this came from a very fast reaction from the students in the team that wanted to do something, anything," explains Curiel, Assistant Professor in the Department of Electrical and Computer Engineering at the University of Calgary, and Associate Director (undergraduate), at the Centre for Bioengineering Research and Education. "A very motivated group of students immediately got into motion."
Even as access to the university campus closed down because of the pandemic, Curiel and her students recognized that some designs for the swabs used in COVID-19 tests used the same printer that they had in their lab. They set to work on a design for a swab and a printing protocol that could use their lab equipment: they explored designs and validated them, evaluated the design that had the most advanced clinical validation, tested and modified the design for the printer they had available, and then developed a final design and printing procedure for that printer.
The team planned to make the printer available to print the swabs, but the work has since moved to manufacturing and out of the university.
"But the real result out of this project was the strong sense of community that having this goal brought to the team," Curiel explains. "The graduate students did not feel they were working alone or were isolated at home because the group was still working together with a common goal. It allowed our group to find this common goal and keep well in this situation, and that is what is most valuable about this experience."
It's this pursuit of a common goal and their ability to solve problems that Curiel says engineers bring to a public health crisis like the COVID-19 pandemic.
"I believe that engineers are drawn to solving problems and that during the pandemic they have been looking into alternative solutions," she says. "Moreover, many have continued trying solutions even when some have had to be abandoned because of priorities changing. There is great resilience in the way engineers have approached problems they could solve. In addition, they have been looking ahead to longer-term solutions giving a strong sense of continuity to the community."