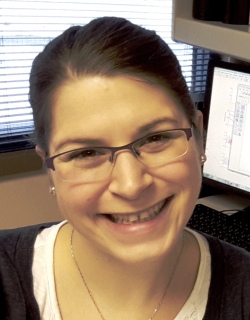 Clinical Engineering Program Manager
Service New Brunswick
As the Clinical Engineering Program Manager at Service New Brunswick, Natalie Boudreau leads of team of six engineers and technologists whose role it is to ensure that clinical engineering operations in the province achieve their targets, such as the 100 per cent completion of preventive maintenance on hospitals' life-sustaining medical equipment like ventilators and defibrillators.
Before the COVID-19 pandemic hit, Boudreau would travel throughout New Brunswick multiple times a month to visit the 12 in-hospital clinical engineering departments, and for meetings with government and hospital staff. But since the pandemic began, her and her team have been working from home, diligently supporting the province's clinical engineering operations.
Her team's work has supported New Brunswick's response to COVID-19 in multiple ways, whether it be generating inventory reports on the province's fleet of medical equipment critical to the treatment of COVID-19, assisting with the procurement of medical equipment and technologies, or performing research and providing technical guidance to hospital staff on unique clinical challenges, like minimizing the use of personal protective equipment (PPE) by implementing technologies to check-in and communicate with patients without having to enter their rooms.
Boudreau's team also has a role to play in researching and advising on standards and processes. They've been reaching out to peers across Canada and beyond to ensure that their infection control policies and procedures for servicing medical equipment in New Brunswick were appropriate and up-to-standards. They've provided education, training, and communications to clinical engineering staff across the province on the most up-to-date information and process changes coming out of hospital processes and Public Health Agency of New Brunswick recommendations. And they've research and provided guidance to clinical engineering and hospital procurement staff on the many changes introduced by Health Canada to their medical device licencing process for COVID-19.
For Boudreau, the pandemic has presented the world with some of its most complex problems, but engineers are well-equipped to address them.
"Engineers are uniquely trained in their areas of expertise to create innovative solutions," she says. "Engineers have the ability to analyze and solve complex problems while considering and weighing all aspects of the proposed solutions: cost, safety, environmental and sociological impacts, and others."
Boudreau often gives presentations to school-aged children in her community about engineering.
"When I do so, my goal is to explain engineering in the simplest of terms: engineers make people's lives better by solving global problems, whether they are working to provide clean drinking water to citizens in a community, developing renewable sources of energy to protect our future generations, or designing tools to help us stay digitally connected around the globe."
But when she presents engineering in this way, she says, she feels as though she's overselling the engineering profession, knowing that engineering is an iterative process.
"I know that, looking back through time, the efforts of a single engineer were rarely ever approached with an end-goal to solve a world problem. Often it is a series of innovations from multiple different engineers over long periods of time that bring about worldwide change."
However, the COVID-19 pandemic, she says, is different.
"It is a worldwide problem – a worldwide event. And so it represents a very unique opportunity for engineers from around the world to collaborate and solve a problem with the end goal of bringing about worldwide change: change to the technologies we use to treat patients, change to the healthcare infrastructure which is so critical in these difficult times, and change to the digital tools we use every day to stay connected and do business."