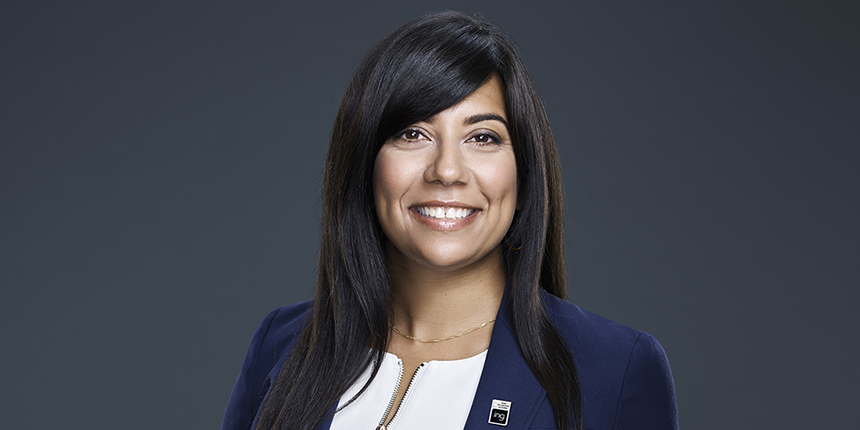 Engineers Canada is pleased to welcome Kathy Baig, MBA, FIC, ing., DHC, as President for the 2022–2023 term. In the coming year, Baig and the Engineers Canada Board will work with the engineering regulators in pursuit of our vision to advance Canadian engineering through national collaboration.
Since 2016, Baig has been President of the Ordre des ingénieurs du Québec (OIQ). Under her leadership, OIQ developed and implemented the ENG2020 Plan and the ENG 20-25 Plan, becoming the reference for public protection within Québec's professional system. These efforts have helped to restore confidence in the engineering profession following the findings of the Charbonneau Commission.
Her accomplishments have been recognized with an honorary degree from the École de technologie supérieure, the Mercury Award by the Federation of Chambers of Commerce of Québec for her leadership, and been named Fellow of both Engineers Canada and by the Canadian Academy of Engineering. Additionally, in 2019 she received a Canada's Top 40 under 40 Award.
Engineers Canada also welcomes Nancy Hill, B.A.Sc., LL.B., FCAE, FEC, P. Eng.  to the role of President-Elect. She is an engineer, lawyer, patent agent, and trademark agent and has been managing intellectual property rights for clients worldwide in the areas of robotics, structural steel, healthcare, and green energy.
Engineers Canada is also pleased to welcome the following Directors to the Board:
Christian Bellini, FEC, P.Eng.
Crysta Cumming, FEC, P.Eng.
Marlo Rose, MBA, FEC, P.Eng.
John Van der Put, FEC, FGC (Hon.), P.Eng.
The 2022-2023 Board is comprised of the following Directors:
Kathy Baig, MBA, FIC, ing., ASC, DHC
President
Quebec
Nancy Hill, B.A.Sc., LL.B., FCAE, FEC, P. Eng.
President-Elect
Ontario
Danny Chui, FEC, P.Eng.
Past President
Ontario
Alison Anderson, P.Eng.
Yukon
Arjan Arenja, MBA, P.Eng.
Ontario
Natasha Avila, P.Eng.
Alberta
Maxime Belletête, ing.
Quebec
Christian Bellini, FEC, P.Eng.
Ontario
Victor Benz, FEC, FGC (Hon.), P.Eng.
Alberta
Geoff Connolly, Q.C. FEC, P.Eng.
Prince Edward Island
Crysta Cumming, FEC, P.Eng.
Nova Scotia
Ann English, FCSSE, FEC, FGC (Hon.), P.Eng. 
British Columbia
Sudhir Jha, M.Eng., FEC, P.Eng.
Northwest Territories and Nunavut
Tim Joseph, PhD, FCIM, P.Eng.
Alberta
Dawn Nedohin-Macek, FEC, P.Eng.
Manitoba
Marlo Rose, MBA, FEC, P.Eng.
New Brunswick
Darlene Spracklin-Reid, FEC, P.Eng.
Newfoundland and Labrador
Marisa Sterling, FEC, P.Eng.
Ontario
Nicolas Turgeon, M.Sc., EMBA, ing.
Québec
Michael Wrinch, PhD, FEC, P.Eng., ICD.D
British Columbia
John Van der Put, FEC, FGC (Hon.), P.Eng.
Alberta