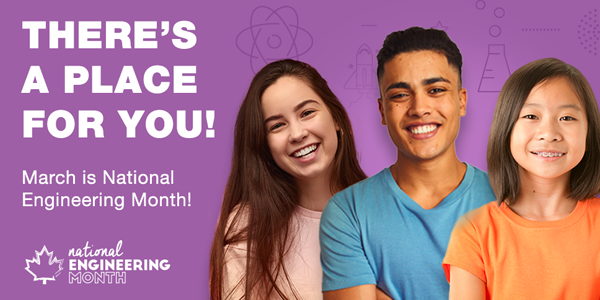 The third week of National Engineering Month 2021 kicks off next week with a focus on the next generation of engineers.
Skills in science, technology, engineering, and math (STEM) have come to be imperative in preparing the youth of today for the jobs of tomorrow. STEM skills are essential to building innovative capacity in Canada, growing productivity, and increasing the country's competitiveness on the world stage. STEM skills and innovation are vital to economic growth and a prosperous society.
Thousands of engineering students at higher education institutions across Canada are currently studying these skills, with an emphasis on the 'E' in STEM. They will be key players in the country's innovation capacity in the future. Today's engineering students are tomorrow's engineers.
During the third week of National Engineering Month, we're giving engineering students centre stage. We want to hear their stories and their visions for the future. We want to hear what motivated them to pursue an engineering education, and what they hope to achieve with their engineering skills.
The next week is also an opportunity for organizations to spotlight how they are helping inspire the next generation of engineers.
For example:
Students: take to social media! Share via vlogging, TikTok, or Instagram posts about what life is like as an engineering student or what you are planning to do as an engineer.
Engineering companies and higher education institutions: spotlight how you are supporting the next generation, providing them with the skills to tackle our present and future challenges. It's also an opportunity to spotlight your junior staff and students and their contributions.
Shine a spotlight on the next generation of engineering by joining the National Engineering Month celebrations on social media at #NEM2021 or #NEGM2021!