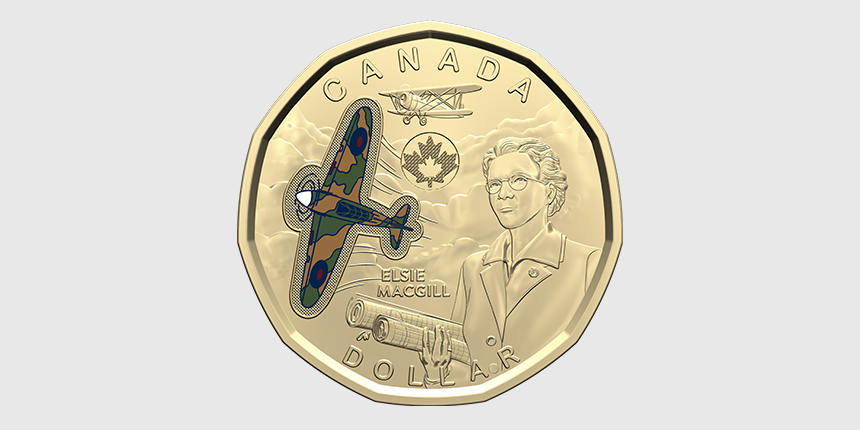 On August 1, 2023, the Royal Canadian Mint issued a new $1 commemorative circulation coin honouring Elsie MacGill, the country's first woman professional engineer and a leading advocate of women's rights.  
"Through her dedication and an unshakeable belief that there was nothing women could not do, Elsie MacGill broke the glass ceiling for Canadian women pursuing careers in engineering, and made historic contributions to Canada's efforts during the Second World War," said The Honourable Chrystia Freeland, Deputy Prime Minister and Minister of Finance upon the launch of the new coin. "I am so pleased that this commemorative coin will honour the legacy of a remarkable champion of women's rights, and will share her story with a new generation of Canadians." 
MacGill was the first Canadian woman to earn an electrical engineering degree and was the first woman in North America to earn a master's degree in aerospace engineering. As the Chief Aeronautical Engineer at Canadian Car & Foundry (CC&F) during World War II, MacGill made Canada a powerhouse of aircraft construction. She was in charge of all the engineering work related to Canadian production of the Hawker Hurricane fighter plane and oversaw operations at CC&F as it expanded from 500 workers to 4,500, where it would produce three Hawkers per day and a total of 1,450 over the course of just two years. 60 per cent of air victories by the Royal Air Force during the war involved this single-seat fighter aircraft.  
In the 1960s, MacGill dedicated a significant amount of her time to advancing women's and children's rights and was named to the Royal Commission for the Status of Women in 1967. 
The new coin was unveiled during a ceremony at the Hangar Flight Museum in Calgary, AB, hosted by Marie Lemay, President and CEO of the Royal Canadian Mint, and Phyllis Clark, Chair of the Board of the Royal Canadian Mint. Engineers Canada Board Director and 30 by 30 Board Champion, Tim Joseph, attended on behalf of Engineers Canada.  
"It was an honour to represent Engineers Canada at the unveiling of the new coin commemorating Elsie MacGill, her contributions to engineering, and the lasting impact she had on our profession," Joseph said, reflecting on the stories shared about MacGill during the ceremony. Reflecting the societal expectations of that time, "Elsie was at the CC&F plant every day, first in, last out, and always wore bright red lipstick!" 
Joseph also notes stories of MacGill's perseverance that continue to serve as great inspiration. "Elsie had polio at a young age, leaving her relying on two canes. One story shared at the unveiling told of Elsie traveling by car from Thunder Bay to Montreal for a technical volunteer meeting, and getting caught in a snowstorm drift. Undeterred, Elsie put her car in drive, got out with her two canes, went to the back, and put her shoulder to the car to move it out of the drift, then got back into the driving seat and continued to her Montreal meeting. Elsie MacGill was certainly a force to be reckoned with and is a continuing inspiration for women engineers!" 
In addition to the unveiling ceremony, the Royal Canadian Mint has also launched a promotional campaign to promote the new coin, featuring some of the ambitious women currently working towards equity, diversity, and inclusion in STEM fields. Engineers Canada's Vice President of Corporate Affairs and Strategic Partnerships, Jeanette Southwood, is featured in the campaign. View the videos on the Royal Canadian Mint YouTube channel.
The artwork appearing on the reverse of the 2023 $1 circulation coin celebrating Elsie MacGill is the creation of Tofino, British Columbia artist Claire Watson. It features Elsie MacGill holding a pair of rolled-up blueprints. Flying above her is the Maple Leaf Trainer II that she designed and beside her appears one of the over 1,450 Canadian-made Hawker Hurricane fighter planes that she helped produce for the Allied war effort in the Second World War, as Chief Engineer of Canadian Car and Foundry in Fort William, Ontario (now Thunder Bay). She was known as the "Queen of the Hurricanes" for that unique wartime contribution. Her name, "Elsie MacGill", is engraved beneath the fighter plane. 
Limited to a mintage of three million coins, of which two million will be coloured, this new $1 circulation coin began circulating on August 1, 2023. It will reach Canadians through their change as bank branches and businesses replenish their inventories of $1 coins. The coloured and uncoloured circulation coins are also available as collectibles in a six-piece Collector Keepsake coin set. Other collector products adding to the celebration of Elsie MacGill include coloured and uncoloured limited-edition special wrap rolls of 25 uncirculated coins each, and a commemorative Collector Keepsake Card featuring both versions of the circulation coin, packaged with uncirculated versions of 2023 classic circulation coins (5-cent to $2). 
These collectibles can be ordered as of today by contacting the Mint at 1-800-267-1871 in Canada, 1-800-268-6468 in the US, or online at www.mint.ca/macgill. They are also available at the Royal Canadian Mint's Ottawa and Winnipeg boutiques, as well as through the Mint's global network of dealers and distributors, including participating Canada Post outlets.