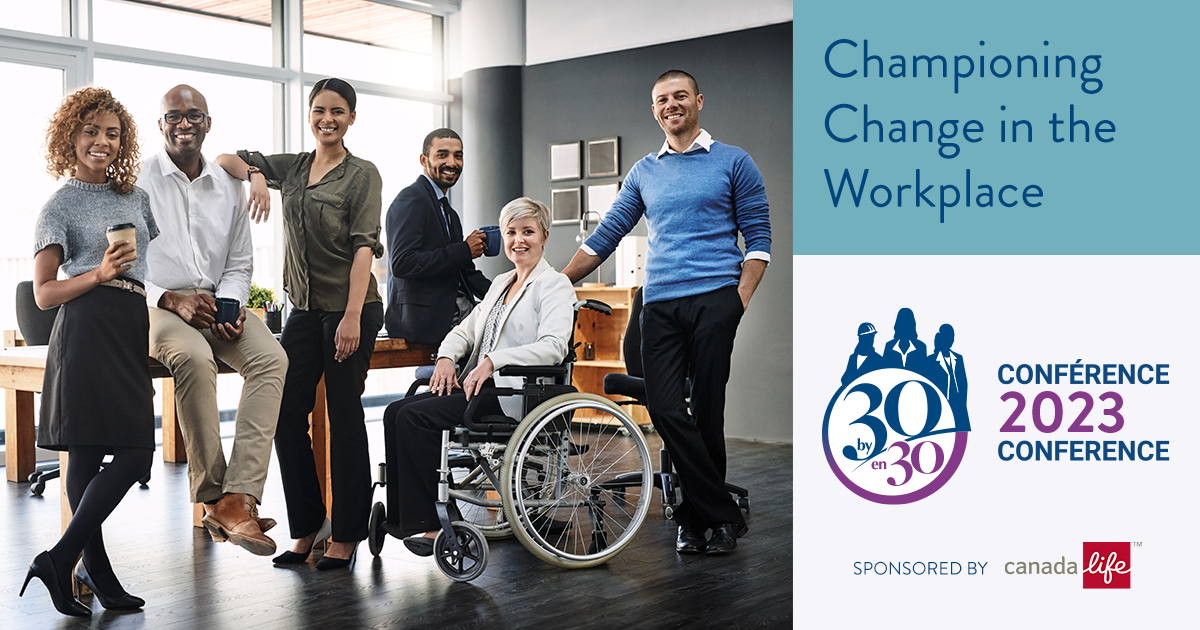 Join Engineers Canada at the 2023 30 by 30 Conference, a gathering for 30 by 30 Champions, engineering regulators, equity-deserving groups, engineering students, and engineering employers to advance equity and belonging in the engineering profession. The Conference will start with a series of virtual sessions on May 3, 10, and 17, networking events during the week of May 22-26 in communities across the country, and an Employer Leadership Summit in Halifax, NS, on May 24.
The theme of the 2023 conference is Championing Change in the Workplace to bolster belonging among equity-deserving groups, and to shift engineering workplace culture for the better. The Conference will build awareness and skills related to inclusive leadership, intersectionality, positionality, emotional intelligence, conscious inclusion, and allyship.
Engineers Canada extends its thanks and appreciation to Engineers Nova Scotia, who we have partnered with to organize this year's conference, and to conference sponsor, Canada Life.
Virtual session 1: May 3 from 12-1:30 ET
Join us to discuss the process of writing a Request for Proposal (RFP) for equity, diversity, and inclusion services! Our panel of providers and organizations will share lessons learned and discuss how to write a request that communicates enough information to vendors to meet your needs, how to build relationships with service providers, and how to select a vendor.
Virtual session 2: May 10 from 12-1:30 ET
Join our speakers for a discussion of the Canadian Engineering Qualifications Board's (CEQB) Guideline for Women's Workplace Equity. Through this panel you'll learn about the guideline, how to use it, the limitations of a "one-size-fits-all" EDI policy, and how to center lived experience when creating toolkits for EDI practices.
Virtual session 3: May 17 from 12-1:30 ET
Engineers commit to safeguarding human life and welfare, which requires a recognition of injustices when they occur. During this session, we will be discussing workplace violence prevention: how to go beyond the legal framework to be an anti-violence and anti-harassment workplace.
Community events: Week of May 22 to 26
Networking sessions will be organized as part of the lead-up to the conference. Engineers Canada is seeking partners to lead in-person networking sessions across Canada during the week of May 22 to May 26. Partners can receive up to $1,000 to help organize their event. If interested in learning more about how you can partner with Engineers Canada on these networking sessions, please contact Yasemin Tanaçan-Blacklock, Advisor, Equity and Belonging at yasemin.tanacan-blacklock@engineerscanada.ca.
Sponsored by: