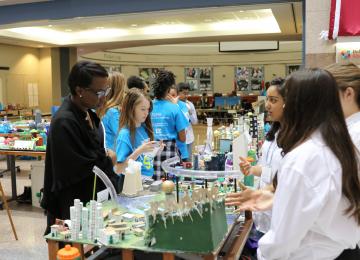 DiscoverE has announced its theme for the 2017-2018 Future City Competition. This year, students in Grades 6, 7, and 8 will be asked to respond to the issue of The Age-Friendly City, and address the challenges in designing innovative solutions that can serve an urban area's older population.
Long-held assumptions about aging are being radically redefined.  Older adults are living longer, staying in the workforce longer and living independently for longer than ever. This population is also growing and altering society's overall demographics. By 2050, older adults will outnumber children under the age of 14.
In anticipation of this new reality, the World Health Organization (WHO) has outlined a plan to help cities respond to the particular needs of older adults. The organization's approach recognizes that, as people age, they inevitably experience physical and cognitive change and risk isolation and loneliness. Planning for an older demographic means conceptualizing accessible and safe transportation options, barrier-free access to buildings and infrastructure, appropriate social welfare programs and open access to health care support and services.
With this pressing societal issue top of mind, the 2017-2018 Future City Competition will task students with identifying age-related issues in their city planning and engineering a framework that enables seniors to remain active, independent, and engaged. Working in a team with an educator and STEM mentor, students present their vision of the future through a virtual city design (using SimCity™ software); a 1,500 word city essay; a scale model of their city (built with recycled materials); and in a short presentation to a panel of STEM professionals.
Future City is entering its 26th year in the United States. Engineers Canada brought the competition to Canadian classrooms in Ontario and P.E.I. for the first time in 2016-2017. Eight classes from P.E.I. and 50 classes from the Durham District School Board in Ontario competed in the first Canadian regional finals in January 2016, and one team from each region traveled to Washington, D.C. to compete against 41 other teams in the Future City finals in February. In the United States, over 40,000 students, representing 1,350 schools, take part in the competition each year.
Registration for the 2017-2018 competition closes on October 31, 2017. For more information on Canadian participation, contact Engineers Canada's Julia Chehaiber at Julia.Chehaiber@engineerscanada.ca.