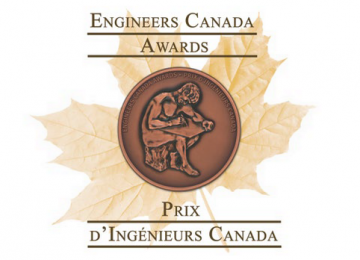 OTTAWA, April 20, 2017 – Engineers Canada is pleased to announce this year's eight winners of the annual Engineers Canada Awards.
Sponsored by TD Insurance, Manulife, Great-West Life and ENCON Group Inc., the awards recognize engineering excellence and the recipients outstanding contributions to their community, to their profession and to the safety and well-being of Canadians.
The 2017 Engineers Canada Award recipients are:
Larry E. Seeley, P.Eng.


Gold Medal Award
Amy M. Bilton, P.Eng.


Young Engineer Achievement Award
G. Ross Peters, FEC, P.Eng.


Meritorious Service Award for Professional Service 
Eduardo (Ted) Maulucci, P.Eng.
Meritorious Service Award for Community Service
Jonathan F. Holzman, P.Eng.
Medal for Distinction in Engineering Education
FLIR Radars for the Radar FLIR Ranger R20SS


National Award for an Engineering Project or Achievement
Mary A. Wells, P.Eng.


Award for the Support of Women in the Engineering Profession
Veronica Knott


Gold Medal Student Award
The recipients will be honoured during a ceremony to be held on Thursday, May 25, 2017, at the Delta St. John's Hotel and Conference Centre in St. John's, Newfoundland and Labrador.
For more information, contact:      
Brent Gibson
Practice Lead, Communications
Engineers Canada
613.232.2474 x234
brent.gibson@engineerscanada.ca