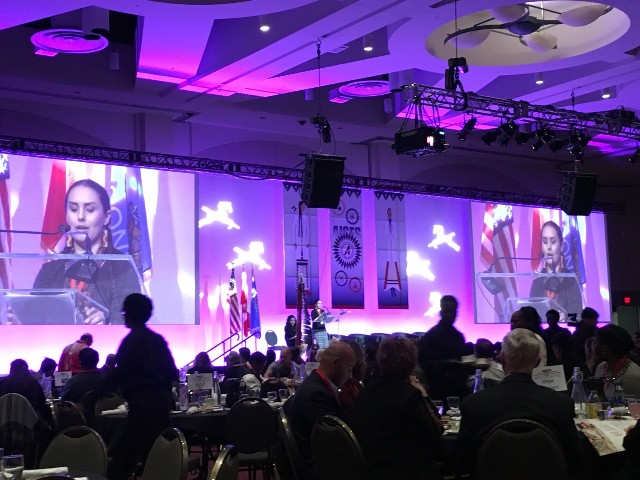 On October 10 to 12, 2019, the American Indian Science and Engineering Society's National Conference was held in Milwaukee, Wisconsin. With over 2,300 attendees, it is the largest annual gathering of Indigenous scientists and engineers in North America. The conference welcomes Indigenous professionals, post-secondary students, high school students, educators, and industry exhibitors for three days of workshops, talking circles, meetings, and awards. Engineering makes up a third of the program, with several sessions hosted by Canadian engineers, such as "Indigeneering K-12 outreach: creating ethical spaces of cultural safety and humility for Indigenous and non-Indigenous educator and mentor collaboration" by Deanna Burgart from the University of Calgary, and "Kanata, eh? A panel on contemporary understandings of Indigeneity in Canada" by Jamie Ricci from Indspire.
The conference's theme this year was "Indigenizing the Future of STEM." Edgar Villanueva, author and philanthropy executive, launched this during his keynote address on the economic and societal importance of diversity, equity, and inclusion across all sectors. Several sessions focused on Indigenous ways of knowing in STEM fields, such as "Indigeneering- engineering through Mino-Pimachisowin" by John Desjarlais from APEGS Council, and "Indigenous Methods to Bridge Cultural Gaps in the Classroom" by a team of public-school educators from Denver, Colorado. The conference also included several gatherings, including for all Canadian members, as well as a LGBTQ+ Rainbow gathering and talking circle and a networking event for professional members.
Next year's gathering is scheduled for October 15 to 17, 2020 in Spokane Washington!