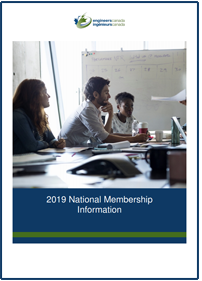 This week Engineers Canada released its 2019 National Membership Report. The annual report gathers information on the provincial and territorial engineering regulators' membership, providing information about the growth and composition of the engineering profession in Canada. This year's report presents data from the 2018 calendar year and indicates continued steady growth of the profession.
Total membership in the provincial and territorial regulators grew to 302,876, a 2.3 per cent increase over 2017 numbers. The largest increase in membership numbers were seen in Ontario, Quebec, and British Columbia, but the largest percentage growth occurred in the Yukon and Northwest Territories.
Overall female membership in the profession grew by 5.5 per cent, compared to 1.9 per cent growth in male membership. While the number of women in the profession is growing, they still remain underrepresented, accounting for 13.5 per cent of engineers, up from 13.1 per cent in the last report.
The National Membership Report also provides a yearly measure of progress against Engineers Canada's 30 by 30 goal, which aims to see 30 per cent of newly licensed engineers be women by the year 2030. This year's report finds that 18.1 per cent of newly licensed engineers in 2018 were women.
The report also reports on the residency of engineers. In 2018, 82.5 per cent of engineers resided in the jurisdiction in which they were licensed, which is consistent with previous years. Engineers PEI had the highest percentage of its engineers residing in the province, while Engineers Yukon had the lowest.
The report is available on the Engineers Canada website.