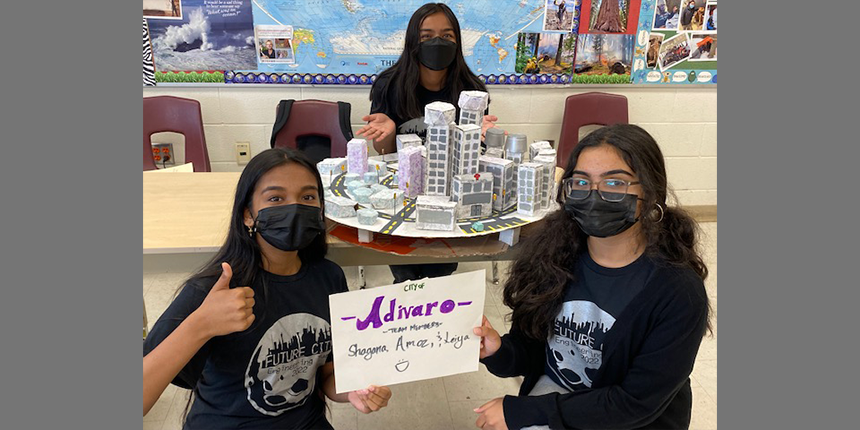 More than 2,600 students in Grades 6-8 from across Canada proudly showed off their visions for future cities on the Moon at the Future City Experience Showcase, organized and hosted by Ontario Tech University in collaboration with Engineers Canada and Engineers of Tomorrow, on May 11, 2022. 
Working in teams, students spent February through April using the engineering design process to research, plan, and build a scale model of a lunar city. They then presented their models during the virtual Showcase, where they met with a panel of engineering volunteers to present their designs, receive feedback, and have their future city 'stamped.'  
Launched in February 2021 as a Canadian pilot program, the Future City Experience is an abbreviated version of DiscoverE's Future City Competition, which asks students to use the engineering design process to research, design, and build a scale model of a city 100 years into the future. The Future City Experience is intended for teachers and students who have never participated in the Future City Competition before and is designed to provide enhanced support to educators in creating positive engineering experiences for students through mentorship with engineers. In this, its second year, the Future City Experience saw 2,610 students from seven provinces participate.  
Engineers Canada partners with Engineers of Tomorrow to recruit, train, pair, and support engineering students and engineers who volunteered to serve as mentors for participating classrooms. In total, 174 volunteers from nine provinces were trained as Future City mentors, and they virtually visited their paired classrooms at least three times between February and April to connect with the students and help them design their lunar cities.   
At the Showcase event, 63 participating classes signed up to present their future city models to a panel of engineer mentors. The sixty-six engineer mentors were divided into 21 virtual rooms where they reviewed student presentations, asked them questions about their future cities, and provided live feedback. They also made the decision to 'stamp' the students' designs as 'ready to launch' or 'test and redesign.'   
Students participating in the Showcase also heard a keynote from Canadian astronaut, Joshua Kutryk, who spoke about how his desire to explore from a young age not only led him to engineering, but also to his role now as an astronaut. Students also heard a presentation from Meaghan Charest-Finn, an Assistant Professor of Mechatronics and Automotive Engineering, whose research aims to push the development and responsible integration of artificial intelligence and machine learning methods into autonomous and semi-autonomous systems such as manufacturing equipment and vehicles—the types of things you might need to build a city on the Moon!  
Feedback from teachers who participated in this year's Future City Experience program has been largely positive. One hundred per cent of teachers reported that the program encouraged students to apply math and science to real-world problems, and teachers reported that 85 per cent of students had a deeper understanding of engineering after completing the program.   
"Our class really enjoyed the experience," one teacher said. "They loved having mentors available to run by their ideas. It really helped them think about all the things involved in planning a city (that they hadn't thought of). It also helped the students make connections to the space curriculum we just finished."  
Another teacher added, "As a first time participant, I wasn't sure how my students would respond to this project but was pleasantly surprised at the amount of teamwork, collaboration, creativity, effort and fun they demonstrated. A very worthwhile, real life STEAM project and experience!"  
Like any collaborative effort, the Future City Experience wouldn't have been possible without the support of many organizations, volunteers, educators, and students.  
"Engineers Canada extends its sincere appreciation to the staff and volunteers at Engineers of Tomorrow and Ontario Tech University for partnering on this project," said Kim Bouffard, Engineers Canada's Manager of Outreach and Engagement. "We also thank NSERC's PromoScience for their financial support of the Future City program in Canada."  
"We also owe a debt of gratitude to our dozens of engineering volunteers who made classroom visits, who participated in our live Q&As and in the Showcase to make this an educational and fun experience for the more than 2,6000 students who were inspired to think about what life would be like on the Moon."  
View video replays of the Future City Experience Showcase on the Ontario Tech University website.