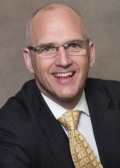 What are your initial impressions of Engineers Canada staff and the work they do?
I'm pleasantly surprised with the level of enthusiasm. As I've sat down with each person in the organization, I've seen a committed group of individuals. It's been gratifying to see how dedicated they are to moving the organization forward in the jobs they do. There's not the sense that they don't want to do things—the key is making sure that we're doing the right things. 
What are some key ways you see specific initiatives achieving the broader mandate of Engineers Canada?
The strategic plan is the big one right now. It's somewhat awkward coming in in the middle of the exercise, as I've needed to adapt to everything that's been done thus far, but as CEO, I can't just stay on the sidelines. I'm finding ways into the project, and it's also fortuitous in that I'm being exposed to one of the largest consultation exercises that's been done in recent memory right when I'm coming in. It's been great to delve in, to talk to regulators, to get their thoughts on Engineers Canada and where it's going and where it should go.
How are you planning to foster organizational stability and sustainability? 
One of the first things I've done since coming in is to work with the executive team in reorganizing the corporate structure. Frankly, the senior leaders had already given it a lot of thought, so the timing was good. They knew that things had to change in some manner, and they were able to provide seeds for thought, which I then had my input on.
We've now made some essential changes to the structure of the senior leadership team, introducing controller and legal counsel positions that will be populated by current staff.  We've also changed the title of "practice lead" to "manager" across the organization. Together, these shifts will immediately provide staff with greater clarity on who they report to, and who does what. All indications suggest that the move has had good buy-in from everyone involved, which is extremely important to its success. 
Another priority in terms of stability is the improvement of the way we put together our operations plans. These help us measure our progress, and they enable us to come back to our projects and assess where we're at. This is of course easy to say—it's the doing that will prove the more challenging task. 
How do you think Engineers Canada can best serve and support regulators?
Listening to what they want. Engineers Canada is a joint venture of the regulators. They originally said, "we need a national organization," and that's why it was created. In the more recent past, partly through a misinterpretation or failure of the Carver model, Engineers Canada was restricting the information it shared. In practice, this kept regulators and other stakeholders in the dark for too long on key decisions.
The regulators are not always going to have consensus on what it is we should do here, but we have to have those conversations. This will help them achieve the goal of serving the common interest and assist them in coming up with ideas about how to raise the bar for the profession as a whole. 
Throughout the consultation exercises that have been done around strategic planning, the board has appreciated the explanations of what we do. We can't just go off on our own, as has happened in the past. We need to keep them in touch with the things we do as an organization at a granular level—the work of the Accreditation Board, the Qualifications Board, the national officials groups, the Accreditation Improvement Project team, competency based assessments, and so on. These conversations ensure not only that the regulators stay informed, but that we as an organization are not doubling up on efforts that are being made, for example, at the provincial level.
When you don't have those conversations regularly, you risk surprising people, and when that happens, you lose trust. The more transparent we can be as an organization, the more effectively we will be able to do our work and the greater people's confidence will be in the actions we take. 
What do you see as the most exciting opportunities at Engineers Canada?
Challenge is exciting. As engineers, any time we're presented with a problem, that excites us. When we don't have an answer, we start to think about how can we develop a program to approach it.
30 by 30 is a good example. We have the goal but we don't hold all the levers to make it happen. We know that we have to get universities, employers, and secondary institutions involved, and so the question becomes how do we do that? We're working with the regulators to reimagine how we're accomplishing 30 by 30. We're exploring new ways to approach it. We want to encourage many different strategies, and then build on what's working best. 
Any final thoughts?
I'm thrilled to be here. Having worked in the profession all my life, it's a great honour to be chosen to sit in this office. I'm honoured to work with dedicated professionals here, and on the board, and among the regulators.
I'm energized by what I think we can accomplish as an organization.