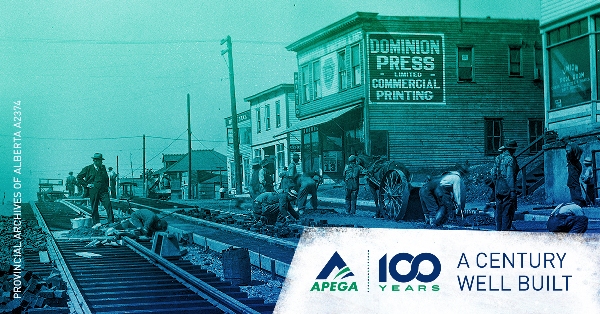 The Association of Professional Engineers and Geoscientists of Alberta (APEGA) turns 100 this year, and their celebrations are focused, fittingly, on "a century well built." Throughout the year, the regulator is highlighting some of the remarkable stories of engineering and geoscience history from across the province. Did you know, for example, that the engineers responsible for the first phone lines and Canadarm were APEGA members?
"Since 1920, APEGA members have played an incredibly important role in building the province we know today," says Jay Nagendran, Registrar and CEO of APEGA.In keeping with this year's theme, in January APEGA launched discoverapega.ca, an interactive archive dedicated to Albertan engineers, their milestones, and their many accomplishments throughout the years. As engineering has rapidly evolved over the past hundred years, APEGA's members have been at the forefront of innovations, from developing important breakthroughs in Alberta's energy sector to designing, constructing, and maintaining the province's major infrastructure projects.
Notably, the province's engineering profession sees many great accomplishments ahead as well, as self-regulation continues to play an important role in protecting the public and pushing innovation across sectors in the coming century.
"We remain committed to working with our stakeholders and government partners," says Nagendran, "to ensure we uphold public safety and environmental, economic, and social standards that Albertans deserve and expect for 100 more years to come."
APEGA will be holding numerous events throughout the year to commemorate this momentous occasion. For information about all six regulators celebrating their centennials this year, please visit 100 Years of engineering in Canada at Engineerscanada.ca.