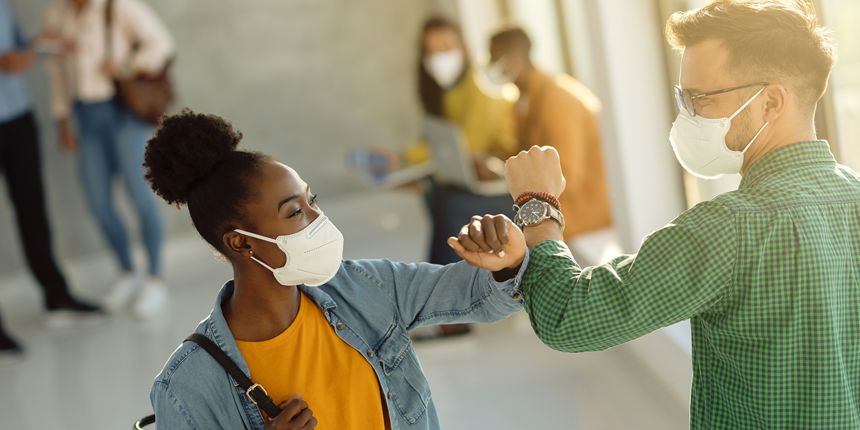 Back-to-school season generally comes with much excitement for students—excitement to reunite with friends and classmates, excitement to dive into new courses, and excitement about what the year ahead holds for academic and co-curricular pursuits. 
This year, that excitement is all the more palpable as engineering students return to post-secondary campuses for the first in-person learning since the COVID-19 pandemic began in early 2020. Yet accompanying that excitement this year is also some apprehension about returning to school amidst the ongoing pandemic.
The excitement of a return to in-person learning
For engineering students and Canadian Federation of Engineering Students (CFES) vice presidents Chloe Bergeron, Yudi Yang, and Aparna Mohan, returning to in-person learning after a year and a half of online classes means once again connecting with friends and professors, and experiencing the benefits of in-person classes and labs.
"I'm super excited to see everyone again," says Yang, a software engineering and business student at Western University. "It's a lot tougher to conduct courses online in terms of how engaged students are. I'm really pumped to go back to school and to see all my friends."
Bergeron, a chemical engineering and computing technology student at the University of Ottawa, agrees, saying that she's missed conducting labs and connecting with professors. "I want to see people again! Professors are super interesting people; they know so many things, and it's such a great networking opportunity. All the professors that I've had this past year online I've never met in person. So I'm excited to go to campus and get to meet them."
Mohan, an industrial engineering student at Dalhousie University, adds that she's missed the sense of physical community that comes with being on campus. While Bergeron, Yang, and Mohan are all entering their final years of undergraduate studies, they are especially excited for the first- and second-year colleagues to experience campus life.
"I've had my time on campus, I've met my people, [doing the last year and a half online] wasn't the end of the world for me," Bergeron explains. "But the students who started university last year during COVID have only known remote learning. So I'm excited for those younger students to come to campus, live here, and meet people in person for the first time."
In addition to a return to classes, back-to-school season also means a return to extracurricular activities. For these CFES vice presidents, this fall's return to in-person learning means a hopeful return to in-person CFES conferences and other co-curricular events and activities that will keep them busy throughout the school year and that will allow them to connect and network with their fellow students.
"Conferences are just so fun," says Bergeron, who supervises all of the CFES' conference offerings. "You get to meet so many great people. They're a great opportunity to learn and expand your knowledge.
"I've been involved with the CFES for the last year and a half, but everything was online so I haven't met any of my colleagues in person," Bergeron says. "The Canadian Engineering Leadership Conference in January would be the first time I get to meet them in person, so I'm looking forward to that."
COVID concerns still linger
Despite the excitement that comes with a return to in-person learning, some students feel apprehensive about a return to campus, and the pandemic still presents challenges for engineering students.
"Obviously there's a bit of apprehension," Yang explains. "Firstly, COVID is still around, and will always be a worry. And secondly, you haven't spoken with people in so long, so getting back in there and overcoming that social anxiety will also be a concern for some as well."
And after more than a year of restrictions that were lifted and then reimposed multiple times, she points out that uncertainty still lingers. "What if everything kind of blows up again and we have to go back online? How will that work and how will that affect students' morale?"
As engineering student leaders involved with the CFES and with other student groups on their respective campuses, Bergeron, Yang, and Mohan are also cognizant of the challenge that the ongoing pandemic poses for student leaders who are trying to organize events and activities that foster a sense of community among students.
"Something that engineering student leaders are grappling with is event planning and community building," Mohan describes. "What is community building going to look like in this liminal phase of returning from the pandemic? Some people are advocating for easing into things, and others are rushing to get back to normal, so navigating the tension between those two needs is going to be a challenge for a lot of student leaders."
Out of uncertainty comes opportunity
As they return to school this fall, engineering students are also reflecting on the pandemic, hopeful that engineering students, faculties, and the engineering profession, can benefit from lessons learned over the past year and a half. Top of mind for Yang and Mohan are accessibility and mental health concerns.
Online learning, while not necessarily ideal, does present some benefits for some students. Mohan points out that it provided an opportunity to slow down and listen to and consume lectures at a pace and in an environment over which students were able to have more control and some students appreciated that, especially those with learning disabilities or accommodation requirements.
Yang agrees. "There were things online that did work, so how can we maybe make a hybrid model that will benefit students from everywhere. That's something I would love to see universities and students work towards, making education more inclusive."
Mohan adds that while mental health concerns existed among engineering students prior to the pandemic, they have been exacerbated by the pandemic.
"I know that for many people, including engineering students, this pandemic has taken a toll on their mental health and on financial circumstances, so I'm anxious to see how those impacts translate into policy on the part of the faculty," explains Mohan. "I'm anxious to see whether the compassion that we modelled during this pandemic is something that will be sustained moving forward."
As CFES Vice President, Advocacy, Mohan heard from engineering students across Canada last year who, in the absence of being able to take advantage of in-person conferences and events, wanted to see CFES step up its advocacy and activism on the part of students. She's translating that demand into a new and improved national survey of engineering students this year that will be the most ambitious yet and that will be a comprehensive pulse check on how engineering students are doing and how their perspectives have changed over the course of the pandemic. Those survey results can then inform CFES advocacy efforts for students as they consider different issues and lessons from the pandemic.
"I think there's a really precious opportunity here and I hope that people see the silver lining in having so much disruption," says Mohan. "Not to undermine any of the very valid loss we've experienced, but disruption can often lead to unparalleled growth and I'm hoping to see a world that puts compassion first and foremost in all of its dealings."

Engineering Life is an occasional series that explores the human side of engineering through stories and insights in the lives of engineers. This series is supported by affinity program partner TD Insurance, a trusted partner dedicated to helping engineers and geoscientists get access to preferred insurance rates on car, home, condo and tenant coverage.
For more information or to get a quote visit www.tdinsurance.com/engineerscanada or call 1-866-293-9730.