OTTAWA, February 27, 2018 – Engineers Canada is pleased to see the federal government's commitment to gender equality, research, and climate data collection, as laid out in Budget 2018, Equality and Growth: A Strong Middle Class.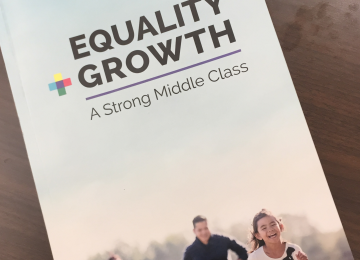 "Strengthening diversity in engineering is critical to Canada's innovation agenda, promoting productivity, and addressing future skilled labour needs," said Engineers Canada CEO Gerard McDonald, MBA, P.Eng. "Budget 2018 lists a lot of admirable goals to promote greater gender equality in STEM fields; however we had hoped to see more concrete actions and increased funding to make these goals a reality in the engineering profession."
Engineers Canada is encouraged by the government's funding of $5 million per year for Status of Women Canada to undertake research and data collection, including support for a project that analyzes the unique challenges visible minority and newcomer women face in finding employment in STEM occupations. We would encourage the government to invest funding in similar projects that investigate the barriers that deter any under-represented group from pursuing careers in the STEM fields, namely women and Indigenous peoples.
Engineers Canada has actively promoted the need for federal research funding that sheds light on the barriers that deter women from pursuing an engineering education and career. Current information is mostly anecdotal, and further research will be a critical first step for relevant parties and policy-makers to implement appropriate interventions to eliminate these barriers for under-represented groups.
Engineers Canada is also encouraged by the government's proposed investment of $120 million over the next five years to adapt Canada's weather and water services to climate change. Consistent national climate data will ensure accurate climate projections for better infrastructure vulnerability assessments, which will enable effective planning for present and future projects.
"While this investment acknowledges the importance of national climate data, we anticipate that the federal government will continue to support climate resilience and adaptation in order to keep Canada competitive and its economy growing," said Jeanette M. Southwood, FCAE, FEC, LL.D. (h.c.), P.Eng., IntPE, Engineers Canada's Vice-President, Strategy and Partnerships.
Engineers Canada submitted budget recommendations to the House of Commons Standing Committee on Finance in August 2017 and provided testimony to the House of Commons Standing Committee on Status of Women in May 2017. In these submissions, Engineers Canada called for investment in climate vulnerability assessments for infrastructure, initiatives to attract and retain women and Indigenous peoples in post-secondary engineering education and in the engineering profession, and investments in labour market data collection. Read the full submission on Engineers Canada's website.
Engineers Canada is the national organization of the 12 engineering regulators that license the country's 290,000 members of the profession. Together, we work to advance the profession in the public interest. www.engineerscanada.ca
For more information, contact:
Brent Gibson
Practice Lead, Communications
Engineers Canada
613.232.2474 x234
brent.gibson@engineerscanada.ca