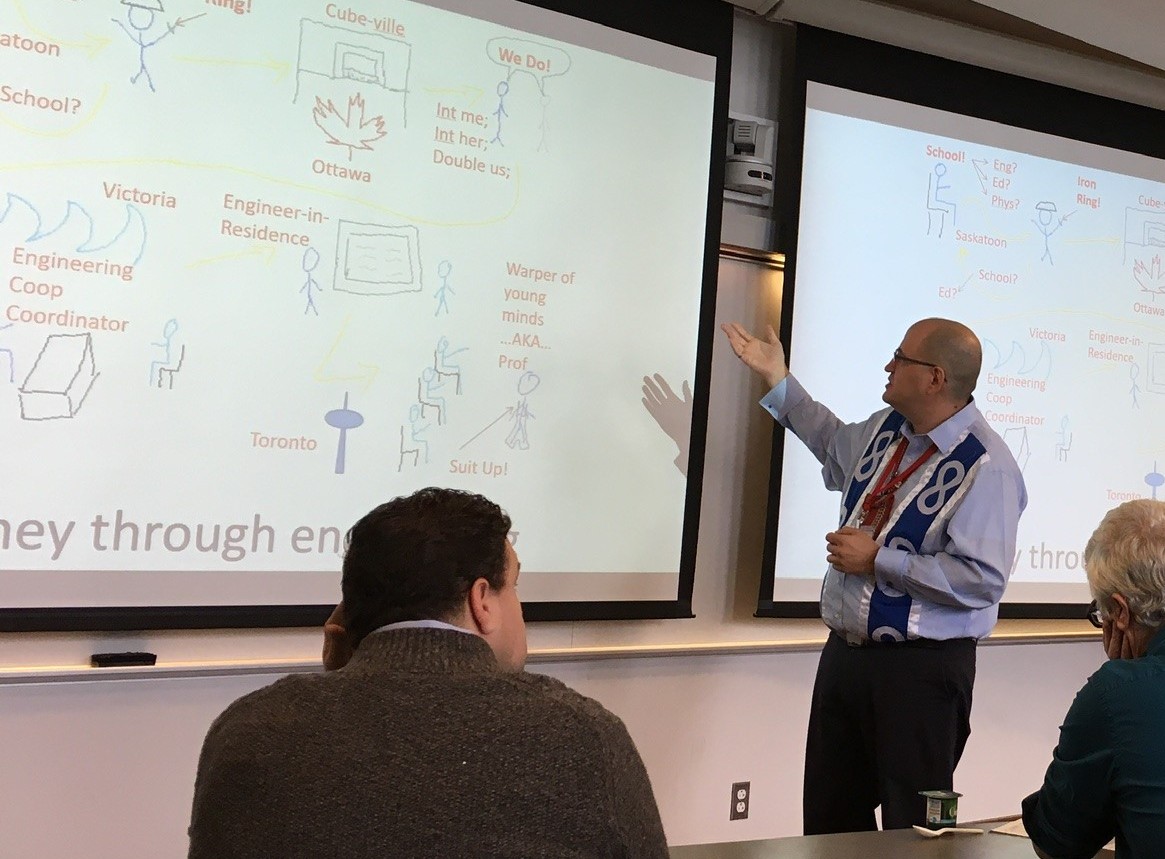 The second annual National gathering of the Canadian Indigenous Science and Engineering Society (.caISES) welcomed 134 Indigenous STEM students, academics, and professionals from across North America to hear about STEM education, share success stories, and mentor young talent. This year's theme was "TEWATSENTÓNTHO": "We Add More Wood to the Fire." As with last year's gathering, the event and its organizers benefitted from the American Indian Science and Engineering Society's (AISES) 40 years of Indigenous STEM learning and community-building experience. 
Sessions this year included, 'Indigenous Peoples and Settler Peoples – Immiscible Worldviews' by Matthew Oliver (APEGA) and Jason Bazylak (University of Toronto), 'Community Infrastructure Resilience to Climate Change' by Guy Felio (Stantec), and 'Mino Pimachisowin – Indigenous Code of Ethics' by John Desjarlais (University of Saskatchewan). 
We asked several organizers and attendees to share their perspective on the gathering and its impact. 
Félix Aupalu is an Inuk and French-Canadian undergraduate taking Industrial and Labour Relations at McGill University. He was the conference organizer for the .caISES 2019 gathering. 
How do you feel the event went?  
I feel the event went very well as all sessions ran smoothly, people had enough to eat, and it seems to me as if they enjoyed their weekend overall. I've been getting positive feedback from several people and it feels great to know that they were able to "add more wood to the fire." I guess we'll never really know how it went until we get everyone's opinion on it, but overall, I can say that it went well.  
What's a key insight or inspiration that came out of .caISES for you? 
To start off with, I can say that being Indigenous was a very new concept to me as I have always solely identified with the Inuit people. I was inspired not only that Indigenous people, from many different nations in Canada, travelled incredible distances to attend this gathering, but also that postsecondary Indigenous students and professionals came to this gathering for their love and passion for STEM; that realization made me discover a whole new world of interest and I am planning to join the McGill Student chapter of AISES, despite not being a STEM student myself. I can say from hereon that I will vouch and put effort in all ways I can to encourage and support Indigenous students who wish to make a change in their programs and fields of studies. There was a great energy at the conference, and I'm glad that people got to share their stories, network, and connect together.  
Lisa Paz is the Director of Membership Engagement and Advocacy for AISES, the American counterpart to .caISES. 
What do you believe is the importance of this event for Indigenous engineers and scientists in Canada? 
Bringing Indigenous scientists and engineers together is extremely important because they need to be able to see each other, talk with each other, and learn from each other. It is important that they are reminded that they are not alone. They should feel empowered to continue their work to make changes in their communities. 
How do you feel the event went?  
The event was amazing! The sessions and discussions following them brought up some really important conversations. The energy was exciting, and it is so good to know that this event will continue next year! 
What are your hopes for .caISES in the future? 
We hope to see the continued growth and expansion of .caISES. We would love to have more members and more opportunities in all areas! 
Matthew Dunn is the Indigenous Peoples Initiatives Coordinator for the College of Engineering at the University of Saskatchewan and chair of Engineers Canada's Equitable Participation in Engineering Committee. 
What do you believe is the importance of this event for Indigenous engineers and scientists in Canada? 
This event allows Indigenous students and professionals in engineering and the sciences to see that they're not alone. There is a community of us across this country, and the .caISES gatherings provide the opportunity to meet and network with one another. Connecting with people that have had similar experiences and know what you have gone through is an amazing feeling. 
What are your key takeaways from the event? 
That the .caISES gatherings need to continue and keep expanding. We need more Indigenous students and professionals and allies to attend future gatherings and see how strong this community is. I can't wait for the .caISES 2020 Gathering at the University of Saskatchewan! 
What are your hopes for .caISES in the future?  
My hope is that we continue to work closely with AISES to expand the membership of .caISES. We are now in the next phase of creating new university and professional chapters across the country. I'm also looking forward to additional opportunities for professionals as well as K-12 students and educators at future .caISES gatherings.