Close to 1,500 grades 6, 7, and 8 students in PEI, New Brunswick, Ontario, and British Columbia have spent the past few months designing the resilient power grids of the future.  
Forty-seven schools in PEI, New Brunswick, the Durham region of Ontario, and West Vancouver, BC, have been participating in the Future City Competition, which this year challenged students to use the engineering design process to develop solutions for power grids that can withstand and quickly recover from the impact of a natural disaster.
Over the last two weeks of January, students showed off their innovative solutions and creative city models at regional competitions, where the 2019 Canadian Future City winners were crowned.
Read on for more about the winning team from each region.
PEI and New Brunswick
The team from the Mount Academy took first place at the regional competition held at the University of PEI School of Sustainable Design in Charlottetown, PEI, on January 20, 2019. The power grid in their city, East Lake, uses wireless transfer of energy that makes it more resilient to flooding. The team will be travelling to Washington, DC, in late February to compete against other regional finalists from the United States, China, and the Middle East.  
Durham District School Board
At the Durham competition held on January 22, 2019, at the University of Ontario Institute of Technology in Oshawa, ON, a team from Lord Elgin Public School with their city, Nagoya, took first place in the largest Future City Competition in Canada to date with more than 75 teams and more than 200 students competing. Nagoya's power grid has a range of features that make its transmission, distribution, and other power grid equipment resilient to flooding. Team Nagoya will be joining the winning team from PEI as they travel to Washington, DC, to represent Canada at the Future City Finals in late February.
PEI and New Brunswick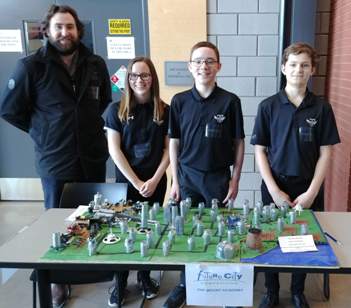 Durham District School Board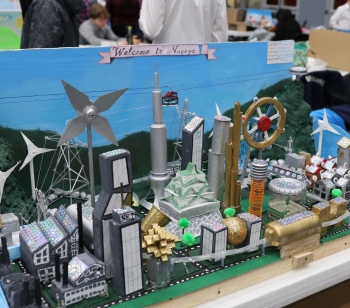 West Vancouver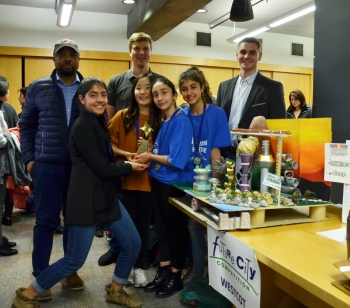 Teams from West Vancouver participated in the Future City program for the first time this year, with a regional competition being held at the West Vancouver Memorial Library on February 1, 2019. The winning team from Westcot Elementary School built the futuristic city of Nankabirwa with its innovative electricity grid called the "H50 system." Saltwater energy, tidal energy, and geothermal energy are harnessed from the H50 system underground. Air purifiers, eco apartments, futuristic transportation systems, outstanding city services, and tsunami resilient solutions are also part of Nankabirwa's unique design.