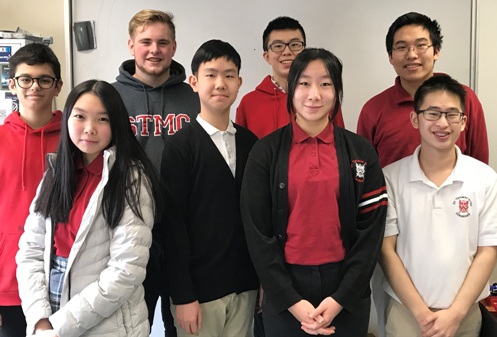 The European Space Agency's CanSat Competition tasks students with developing a satellite probe that can fit inside a soda can, launching it to an altitude of one kilometer, deploying, and then recording temperature data while also completing a secondary mission during descent. For the second year running, a team from St. Thomas More Collegiate in Burnaby, British Columbia will represent Canada in the competition, which takes place in Europe this June.
Coach Joe Muise speaks of the team's path to the competition in terms of risk and resilience. "We started the process having never built anything like this," he says, "so we didn't know the practicalities." One thing they learned early on is that there is much more to the competition than just building the device.
A big question that came up once they started working was how to solicit the technical advice and financial support needed to bring the project to fruition. Muise worked to instil the attitude that "it can't hurt to ask" when it comes to finding help.
As a result of the team's willingness to try, they managed to get technical advice from members of the Canadian aerospace industry as well as the European Space Agency's Education Office. They also received financial support from both the IEEE Canada Fund and Engineers and Geoscientists BC.
However, effectively finding knowledge and sponsorship weren't the only hurdles the team faced on their trek.
As things progressed, the team was eventually confronted with question of how to actually transport the probe to Europe. "We all felt it was a bad idea to put it our checked luggage," notes Muise, both because of the ever-present possibility of losing their luggage and because of concerns around airline safety standards.
"So, we took the probe carry-on in a hard-shell case and labelled it as explicitly as we could to avoid anyone mistaking what it was." In the end, the transport went smoothly, but, as Muise puts it, "We were all rather stressed."
On the matter of developing the probe, Muise says he's amazed at the degree of technical competency he sees in today's high school students: "They are proficient at coding and building electronics. They use 3D printing and really understand how to use the technology needed for this project." He says that even ten years ago these skills wouldn't have been nearly so pronounced.
Another key shift from past expectations, he notes, was that there were two girls on the team of six. He is particularly proud of this proportion, which represented a significantly higher ratio than the 10 per cent average for all the teams at the competition.
While so much has already been accomplished, Muise says there's still a lot of room for this program to grow in Canada. As he puts it, "Canada's participation in the CanSat competition is really in its infancy." To encourage others to participate, this year the team is planning on creating a series of videos to document and share their experience.
Muise says that, as a teacher, working on the project has given him a strong appreciation of the design cycle and the importance of teaching it to students as a model of how to approach engineering challenges. In the end, one of the biggest takeaways from the project has been the value of experiential learning.
"The CanSat competition puts constraints on the students in ways regular instruction doesn't," he says.
"The students had to follow a weight limit for their CanSat and a budget for the parts that went into it, which forced them to make conscious, deliberate decisions about how they built their probe."
With the 2020 competition around the corner, the team is now working on this year's project and looking for supporters. If you or your organization have an interest in offering technical or financial support, you can contact Joe Muise at joe.muise@stmc.bc.ca.