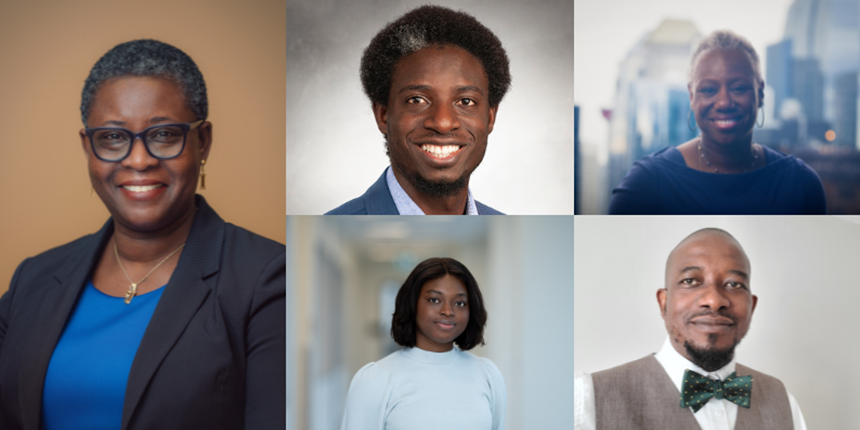 This Black History Month, we caught up with Black engineers and engineering students across Canada to share their stories, impact, and highlight the importance of representation in the engineering community.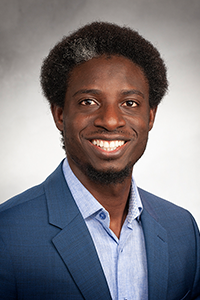 Adekunle Azeez, P.Eng., PMP, PSM
"Seeing someone like me in engineering gives hope to others that they can succeed too."
Engineering brings a wealth of opportunities, allowing individuals to exercise their creativity through various roles. Adekunle Azeez is a Bridge Project Manager, leading bridge design, tender preparation, construction administration, and project management. Azeez's interest in engineering began with motivation from his late father who saw he cared for people's safety and had an innovative mind early in his childhood. Azeez was even more inspired after witnessing his uncle help people actualize their visions from sketches to physical construction. It comes as no surprise that today, Azeez contributes to the safety and well-being of the public through improvements to public infrastructure such as roads, culverts, and bridges – All of which provide easy access for the movement of the public and transportation of goods and services.
Azeez is also passionate about sharing his knowledge and experiences with professional newcomers. He has been a volunteer mentor for the Saskatchewan Intercultural Association for over two years, helping foreign-trained engineering professionals navigate the road to achieving their engineering license and prepare for job interviews in Canada.
"It is important to give room for internationally trained engineers to exercise their talents," said Azeez. "The transition is not an easy task as some internationally trained engineers may find it difficult to enter the labour market while others may find it easy," he added. As an internationally-trained professional himself,  Azeez uses his experiences and knowledge to advise others that although there may be challenges in the beginning, perseverance, patience and asking for help from other colleagues are major tools to succeed in the engineering profession.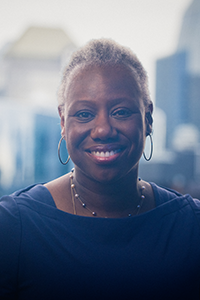 Heather Campbell, B.E.Sc., LL.M., P.Eng.
"Every single board table is big enough to accommodate diverse voices. No one is left behind in a just energy transition."
Over the past three decades, Heather Campbell has built a diverse career within the energy sector. As the Executive Director, Clean Technology with Alberta Innovates, Campbell leads a team that supports innovation and research in: Carbon capture, utilization, and sequestation (CCUS), hydrogen, bioenergy and circular economy, renewable and alternative energy, and critical minerals and emerging technology.
As countries, companies, and individuals work towards tackling climate change, many are setting net-zero goals. Campbell's focus is not only on how we can achieve net zero, but how we can establish a mindset and the tools to stay there. "The conversation on net-zero is currently focused on strategies, tools, and concerns about the pace of change; it needs to also focus on behaviours and values to enable net-zero" Campbell said. "As a result, I'm proud right now, that I can contribute to a productive conversation about a just energy transition – One of my top priorities as a leader in the clean technology sector."
For Campbell, a just energy transition goes beyond solely reducing emissions. In her work, Campbell strives to champion inclusivity, diversity, and equity, using her voice to advance these conversations. As a black woman and an engineer, intersectional realities factor into Campbell's lived experiences. This representation in the engineering profession is important to Campbell to bring light to issues such as gender pay gaps, the underrepresentation of women in the energy sector, as well as sparking the interest of the next generation of engineers. Ensuring the future clean technology and energy workforce is inclusive and enables equity in Alberta and across the world is also at the top of Campbell's agenda.
Outside of her practice, Campbell is an engaged, lifelong community volunteer, actively sharing her talents, resources, and time by participating and often leading a purposely diverse range of organizations. Campbell is a board director with Calgary's performing arts centre Arts Commons, a member of the Advisory Council for Western Engineering, a Commissioner with the Calgary Police Commission and performs two clean technology advisory roles: an advisory council member of the B.C. Centre for Innovation and Clean Energy and an advisory board member of the National Research Council of Canada's Industrial Research Assistance Program. She is also the former co-chair of Alberta's Anti-Racism Advisory Council and has been awarded the Queen Elizabeth II Platinum Jubilee Medal.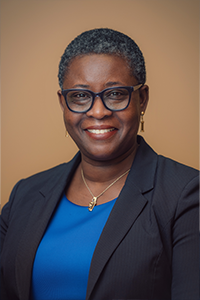 Victoria Addison, P.Eng., LLM
"Focusing on the positive contribution you make in your team allows your work to speak for itself."
Victoria Addison's high school teacher planted her interest in mining engineering. After learning that this wasn't a common venture for women at the time, this thought never escaped her memory. Addison later pursued mining engineering in post-secondary school and graduated as the first female to receive a bachelor's degree in mining engineering in Ghana.
Today, Addison is a Senior Engineer in the Corporate Finance Division for the British Columbia Securities Commission (BCSC). She is part of the mining team at the Commission that regulates reporting mining issuers in Canada. With an expertise in gold, silver, lead, zinc, and copper projects, Addison has worked on various projects and mines across the globe, including Argentina, Ghana, Mali, Mexico, Turkey and the United States. Of her many accomplishments over her 20-year long career, Addison is most proud of her work helping a company transform from a single operating mine in 2012 into a company with four operating mines by 2020. Addison contributes her expertise off-site as an active member of Engineers & Geoscientists British Columbia (EGBC), Canadian Institute of Mining, Metallurgy and Petroleum (CIM) and West African Institute of Mining, and Metallurgy and Petroleum (WAIMM).
Addison highlighted the engineering profession as a very exciting one that seeks to creatively develop and provide solutions to problems that impact society, but representation in engineering is especially critical, Addison shared. "It fosters diversity, and as studies have shown, a diverse team has many benefits including increased productivity, promoting creativity and resilience".
Addison also underlined the importance of representation in providing more role models and encouraging the younger generation to be interested in and aspire to be in the field of engineering. "As a person of colour, it is sometimes easy to think that you don't belong, are unworthy or would not be able to add value to the engineering profession", said Addison. "With the rights skills, you will find an exciting job in engineering so keep forging ahead and don't give up pursuing a career in engineering."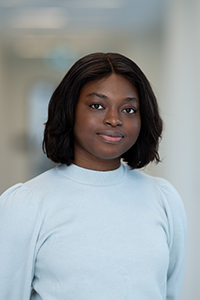 Victory Aifuwa
"When you find people that celebrate and encourage you, you are the best version of yourself."
Originally from Nigeria, Victory Aifuwa is a final-year Mechanical Engineering student at the Memorial University of Newfoundland (MUN). Aifuwa is a deeply passionate and empathetic leader who founded a National Society of Black Engineers (NSBE) chapter at Memorial University, bringing together ethnic minority Engineering students and creating a community to foster collective professional, academic, and social growth. "My five years of post-secondary education have reinforced in me the vitality of ethnic representation in professional fields," Aifuwa said. Communities like NSBE allow people like herself to feel seen and accepted.
Aifuwa has been at the forefront of promoting the interest of underrepresented engineering groups at Memorial whether through increasing minority participation in student design teams or networking sessions, she always has it at the back of her mind, ready to turn it into tangible action. After recognizing the impact that mentorship has had on her, Aifuwa has been dedicating to paying it forward by becoming a mentor herself to fellow engineering students. Aifuwa's initiation of NSBE at MUN has sparked discussions about equity in Memorial's engineering program, making a generational impact and bringing a broader understanding of the support that minority students in professional programs need at the University. Aifuwa is described by peers and Engineering leaders as a leader "dedicated to collective progress" and "an inspiration to young Engineering students".
Prior to that, Aifuwa was involved in leading a design team (FMUNTenth) at the university to build an autonomous racing car. As the hardware lead, Aifuwa built the initial design for the car - from sourcing hardware components, the initial electrical design, to the chassis design
More recently, Aifuwa found that an underrated part of safety is the materials that are being used and became curious about material corrosion. With this interest, Aifuwa started a newsletter analyzing historic engineering accidents and discussing what caused them in order to bring more awareness to the responsibilities of engineers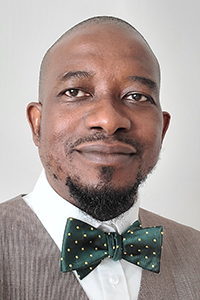 Yomi Ojutalayo, P.Eng.
"Representation in engineering is crucial; it creates more innovative solutions and fosters a more equitable and just society."
After obtaining his Industrial Engineering Degree, Yomi Ojutalayo has applied his expertise within the supply chain distribution of a renowned Canadian retail company. With over 15 years in the field, Ojutalayo supports the successful development of Labour Management Systems (LMS) across the distribution network – A system that provides the warehouse operations and DC Managers with labour planning and labour forecasting capabilities, real-time performance reporting, data analytics and Engineered Labour Standards which drive improvements in management decisions, employee engagement through coaching and drive productivity while keeping costs at a minimum.
Since it's inception in 2020, Ojutalayo has volunteered as Director of Outreach and Partnerships with Black Engineers of Canada (BEC). BEC is an organization that aims to remove barriers to entry for Black Engineers in Canada, whether foreign trained and/or trained within Canada. "I realized after 20 years of experience working in corporate Canada that Black Engineers do not have a platform nor a community that caters to the specific vision and mandate like BEC," Ojutalayo said. " BEC is a community for Black Engineers where they can become a better version of themselves through the various program offerings."
As the Director of Outreach and Partnerships, Ojutalayo's work focusses on building a network of strategic alliances within the engineering eco system, particularly with corporations, engineering institutions, regulatory bodies and other community groups with shared vision across Canada. "Whether you are a student in an engineering institution in Canada or a recent graduate or a new Immigrant who studied engineering outside of Canada, or you at the beginning stage or latter stage of your career, BEC is the place for you."