Engineers Canada was once again proud to partner with TD Insurance this year to sponsor the Canadian Federation of Engineering Students (CFES) Congress. This marked the 50th anniversary of the Congress and explored a particularly timely theme: the Global Engineer.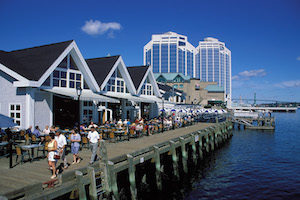 At the CFES Congress Partners' Banquet Jeanette M. Southwood, FCAE, FEC, LL.D. (h.c.), P.Eng., IntPE, Engineers Canada's Vice-President of Strategy and Partnerships, and Joey Taylor, PMP, Practice Lead, Public Affairs, spoke about the importance of recognizing the interconnections between engineers, scientists, policy makers, and groups working to improve conditions for all. One key area where this type of collaboration will be happening in an intensified way is in the UN's Sustainable Development Goals, which were set out in 2015 and include multiple areas where engineering will either need to play a direct role or could be fruitfully brought to bear on discussions and planning.
Southwood noted how the CFES already recognizes "the need to draw on the unique talents, resourcefulness, and backgrounds of people from different personal and professional backgrounds in pursuit of a greater goal," and further suggested that now is the time to extend this insight further: "Thinking now about how your expertise may work together with others' is the path from getting a good education to serving the greater public interest."
Taylor spoke about the integral role that diversity must play in ensuring that engineering solutions are robust and inclusive. "Giving voice to diverse people, perspectives, and ways of knowing enriches engineering solutions and allows them to better serve the public interest," he said, going on to note the way that this mindset scales: "Our attitudes towards our neighbourhoods, our schools, our cities, and our country begin to extend onto the global stage."
With a history now 50 years strong, this important meeting of student leaders from across the country has solidified its presence as a valuable venue to explore the challenges and possibilities for the future of engineering.