Engineers Canada recently spoke with the Climate Risk Institute to discuss their plans for the Infrastructure Resiliency Professional (IRP) Program.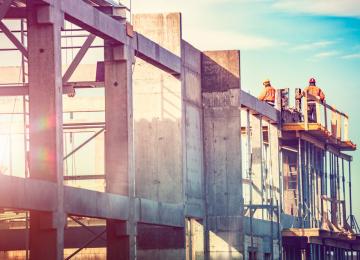 On July 7, 2020, Engineers Canada and the Climate Risk Institute (CRI) jointly announced that an agreement had been reached for CRI to assume ownership of the Infrastructure Resilience Professional (IRP) Program. The IRP Program is a series of courses for engineers on the topics of asset management, risk management, the Public Infrastructure Engineering Vulnerability Committee (PIEVC) Protocol, and climate change law.
With ownership of the IRP Program having now been transferred to CRI, Engineers Canada reached out to CRI to discuss how the program fits in with their mandate, what they've been working on since assuming ownership in July 2020, and their future plans for the program.
Engineers Canada: What is the mandate of CRI and how does the IRP Program fit in with that mandate?
Erik Sparling, Vice President, CRI: Our mandate is to advance practice and deliver services that relate to climate change risk assessment, to adaptation planning, and to policy evaluation and resiliency. At the very core of Climate Risk Institute is capacity-building and working with different types of professionals to improve how they consider climate change in their practices, so as a series of training courses, the IRP Program is a great fit with our mandate.
Al Douglas, President, CRI: One of our core lines of work within CRI is training. We've got experience in developing and providing training material to a variety of different audiences related to climate change information, climate science, and more recently, digging in a bit more specifically into the field of professional planning. We thought this would be a nice complement to the efforts that we've got underway in CRI to develop and deliver training material. So, we submitted a proposal and came to be the recipient of the IRP Program and the place where the program would be housed and delivered across Canada.
Engineers Canada: How had CRI been involved with the IRP program prior to undertaking ownership of the program in July 2020?
Sparling: On the CRI staff side, and within our group of associates, there are a number of people who had been involved in the original development of IRP course material and in its delivery, not to mention in the development, evolution, and application of the PIEVC Protocol over time, with the PIEVC Protocol of course being the focus of one of the IRP courses.
Engineers Canada: The Climate Risk Institute is one of three organizations—the Institute for Catastrophic Loss Reduction (ICLR), Deutsche Gesellschaft für Internationale Zusammenarbeit (GIZ) GmbH, and the Climate Risk Institute—who partnered together in early 2020 to assume ownership and operation of the Public Infrastructure Engineering Vulnerability Committee (PIEVC) Program. How does the IRP Program complement this work?
Douglas: There are a lot of complementary facets to the two programs. It all stems from Engineers Canada, who developed both of these programs. Specifically, there is that one course within the IRP Program that is dedicated to PIEVC training and how to understand and apply the PIEVC Protocol. We've also discussed with our partners ICLR and GIZ ways that the two programs can be more complementary and interact. To give one specific example, how do we get advice from others across the country, groups of experts who can give us their sense of how things are going, what pieces are needed to evolve both the PIEVC Protocol and the IRP training content.
Sparling: To build on what Al is saying, for example, ICLR will get inquiries about PIEVC and its application for important projects that require Climate Lens assessments. Through these inquiries about PIEVC and its use in Climate Lens applications, we've heard that there's a need for some more guidance, support, and training for how to use it in that context. So, we're in the process now of beginning to develop a sub-module for the PIEVC training that will focus specifically on how to use the PIEVC Protocol in Climate Lens assessments. I think there's good back-and-forth that way, with PIEVC practitioners approaching ICLR about the Protocol and how to use it, and then IRP being able to adjust its content to support those practitioners in some of the things that they're expressing a need for.
Engineers Canada: CRI formally assumed ownership and control of the IRP program in July 2020. What are some of the first things you've focused on with the program since then?
Sparling: A number of things. We've been reviewing content of the four existing IRP courses and prioritizing updates. It had been a couple of years since some of these courses had last been delivered and so some of the science reflected in the climate elements needed to be updated and some other things needed to done with the content. And we've been moving all of the course materials over to a new look and feel.
We have also been starting to make connections with key regional partners who will help with the promotion of training. For example, we're targeting October or November for the first delivery of the PIEVC course in British Columbia and we're working with Engineers and Geoscientists BC to deliver that. At the same time, we're bringing together a number of associates who will be key contributors in updating and delivering certain parts of the IRP program. We've also been in conversations with various potential funders to help support some of the work to as quickly as possible get content updated and begin delivering the courses. We've also been in initial discussions with GIZ about how IRP content might be used internationally for some of their training interests.
So, I guess you could say that we've been updating and mobilizing.
Engineers Canada: Over the longer-term, what's your vision for the IRP program?
Douglas: The work that Erik mentioned will stretch us out over at least the next 1.5 to two years. We'd like it to grow, expand, and deliver it as soon as possible. The idea at the higher level is to have more people knowledgeable and trained to include this in their work. We can think of a number of other courses topics, so we hope the breadth of the program will expand.
In addition to delivering courses, there's another side to this and that is the credentialing. We'd like to continue to have conversations with the engineering associations across the country about a credential in order to bring this training to a higher degree of formality, so to speak.
Of course, every IRP course can also be taken independently of the pursuit of the 'IRP' designation. This means, for example, that practitioners interested mainly in gaining knowledge of the PIEVC Protocol can take the PIEVC Course without being obliged to take any of the other IRP offerings.
There are also other initiatives under way in other regions of the country that are developing similar training for professionals—some may be for engineers specifically, but also for other professionals. We want to take a look at what's going on elsewhere, make those connections, so that we can make sure that we're synergistic with what's going on in different regions of the country.
Engineers Canada: So potentially in the longer-term, you could see the IRP program being relevant for many professionals, not just engineers?
Douglas: Certainly, when you begin to think about what this training builds in terms of competencies, you start to think about what knowledge professionals across the board need to build climate knowledge into their work, regardless of their field. CRI has developed this content for different professionals over the years, so we have that ability to look at how to apply this training and content to other professions.